Main content
The kids saving an 80s skatepark with some help from Tony Hawk
Livingston skatepark (or 'Livi' to everyone who ever skated there or wanted to) was once classed as one of the best skateparks of its kind, not only in Scotland, but around the world. Skating stars such as Steve Caballero, Mike McGill and even Tony Hawk made the journey to this Lothian new-town to ride its famous bowl.
Forty years on, it's fallen into disrepair. The concrete is cracking and its once smooth surfaces are covered in scree.
However, in the BBC Scotland documentary Long Live Livi by filmmakers Parisa Urquhart and Ling Lee, we follow the ventures of an all-girl skate crew, "The Snagglerats", who are determined to keep the park and its dream alive.
Skate legend Tony Hawk visited the park in 1990, and can be seen in a clip riding the Livi bowl. In a video call to the girls he tells them, that if they can learn to skate Livingston they'll be able to skate anything and and admits that the rock-hard surface "chews you up!"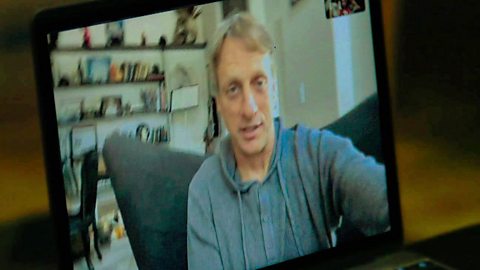 Skate legend Tony Hawk makes a personal call to the girls from Livingston skate park.
The next generation of Livi
A new generation of girl-skaters dedicated are determined to reinvigorate the park. Poppy, Rudy and Mac are inspiring each other and other girls to skate. Supported by their mums, they travel the length of the country entering skate competitons and representing girls on the Scottish skate scene, but Livi is home and they're determined not to let it crumble.
Livingston Skatepark opened in 1981 and was designed and built by architect Ian Urquhart. It was inspired by his wife and dedicated skater Dee Urquhart and together they travelled across America to gain insight into the composition and engineering of leading skateparks, getting their hands dirty, digging out the bowls and assisting in the parks construction.
Not only did this dynamic couple create what may well be one of the oldest skateparks in Europe, they nurtured and grew the Scottish Skate scene and even formed The Scottish Skateboarding Association, and organisation which still thrives to this day.
This gnarly, concrete park is considered so challenging only the most hardcore of skaters carve its concrete... along with the snagglerats of course. So, Long Live Livi!
Livingston skatepark is legendary among skaters, but 40 years on it has fallen into disrepair. However, a local group of three ambitious skate girls are on a mission to save the park.
The 'Snagglerats' - Rudi, Poppie and Mac
Latest features from BBC Scotland
Alicia MacDonald on her dramatic coastguard helicopter delivery.

Why men must be open about their mental health.

Seven financial tips for students starting university.

Inside the Zoo goes inside Edinburgh Zoo and The Highland Wildlife Park in Kingussie.

Experts believe we should begin saving for retirement as soon as possible.

One host reveals how she has benefited from giving shelter to refugees.

The comedian discusses her harrowing upbringing in a Stark Talk podcast.

Angel investors help to create an 'echo effect' encouraging entrepreneurs.

Beatrice Jones recalls painful memories in a bid to help others understand loss.

A traditional pre-wedding ritual is said to reveal the extent of her love.

Edi Stark takes us on a journey through some of her classic archive interviews.