Main content
Wild Kingdom by Stephen Moss
About the Book
Britain's wildlife is in trouble, according to Stephen Moss. Wild creatures that have lived here for thousands of years are disappearing, because of pollution and persecution, competition with alien species, changing farming and climate change.
It's not just rare creatures such as the Scottish Wildcat or the Red Squirrel that are vanishing. Hares and hedgehogs, skylarks and water voles, even the humble house sparrow, are in freefall.
In Wild Kingdom, Stephen Moss tells a different story. He has travelled the length and breadth of the UK to see just how Britons are fighting back to save the wildlife they love.
About the Author
Stephen Moss is a naturalist, broadcaster, television producer and author. In a distinguished career at the BBC Natural History Unit his credits included Springwatch, Birds Britannica and The Nature Of Britain.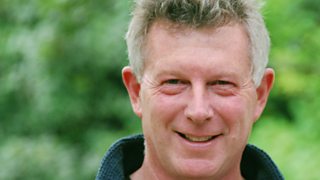 His books include A Bird In The Bush, A Sky Full Of Starlings, The Bumper Book Of Nature and Wild Hares and Hummingbirds. Originally from London, he now lives with his family on the Somerset Levels.
Q & A
When I write I like to...
...sit in my garden office, looking out across the view to the Mendip Hills. I write accompanied by the sound of mewing buzzards, laughing green woodpeckers, chatty song thrushes and, at night, hooting tawny owls. Being close to nature is truly inspirational, although it can sometimes be distracting - as when a low-flying sparrowhawk headed straight into my greenhouse and had to be rescued!
The book that inspired me to write was...
...everything I have ever read! But if I had to choose one, it would be The Wind in the Willows by Kenneth Grahame, still my favourite portrayal of the English countryside, which my mother read to me as a child. I have read it to all my five children, and look forward to reading it to my grandchildren one day...
My speciality in the kitchen is...
...roast potatoes - to accompany a full roast dinner cooked by my far more culinary competent wife Suzanne. Yesterday I made banana bread, but my daughter Daisy is the ace baker in the family, producing lemon drizzle cake that melts in the mouth.
My current view is of...
...my Somerset garden - an acre of paradise here in the West Country. The sun is shining, birds are singing and spring is (almost!) here... my favourite season is about to kick off.
One of my favourite writers is…
...Stella Gibbons. Cold Comfort Farm would be my 'desert island book': hilarious and moving, the greatest satire on life in the countryside ever written, and as fresh today as when it was published more than 80- years ago. Amongst nature writers, my heroes are the poet John Clare, who could capture the movement of a bird in a single line, and the late Kenneth Allsop - journalist, TV presenter and passionate conservationist, whose writing is full of passion and insight.
One thing people don't know about me is...
...I was brought up by a single mum and grandmother in the 1960s, when everyone else had two married parents living together. They both died long ago, but my nan taught me to read when I was still a toddler, and my mum always made sure the house was full of books. This helped me get into grammar school and then read English at Cambridge, so I owe them everything. After my mother died, I traced my father, an Italian bus driver who had a passionate but short-lived affair with my mother, of which I was the result. I found I had a whole new family over in Italy.
The thing I love most about words is...
...when you write, you are only limited by your imagination. Those 26 letters, when put together into words, can produce great works of literature, passionate polemics, hilarious comedy and pure tragedy. Amazing.