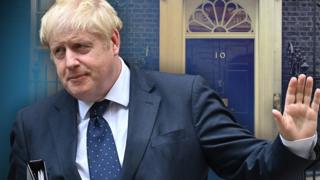 Getty Images
The UK's Prime Minister, Boris Johnson, has announced he is stepping down, giving up what he called "the best job in the world".
His decision to give up his job comes after a challenging week in which more than 50 people from his own party - from ministers to aides - have resigned in protest over his leadership.
Mr Johnson said plans to stay on as PM until a new Conservative leader, and future prime minister, has been elected by his party - but it is uncertain if his party and other politicians will support that.
Mr Johnson became prime minister in July 2019 after winning the Conservative Party leadership contest to replace Theresa May, and went on to win a historic general election victory five months after that.
What did the prime minister say?
Mr Johnson officially announced his resignation on Thursday afternoon, outside his home and office, 10 Downing Street.
In his resignation speech, he thanked the British public for giving him the opportunity to serve as prime minister, calling it the "best job in the world".
He promised that the public's interests will be his priority, and that government would carry on, until a new prime minister is chosen.
Above all, I want to thank you, the British public, for the immense privilege you have given me.
However, it was clear that Mr Johnson was unhappy to be standing down as leader, saying "it's painful not to see through so many ideas and projects," and blamed his exit on "herd" behaviour.
Mr Johnson also pointed out that no-one in politics is indispensable and he promised to do all he can to support his successor.
Crowds of people stood at the gates to Downing Street, trying to catch a glimpse of the prime minister.
When the prime minister walked out, he received applause from his supporters, but as he spoke, booing could be heard in the background from people happier to see him leave.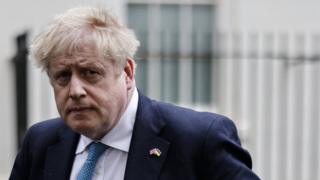 Getty Images
The prime minister has found people to fill all the missing positions in his cabinet.
Mr Johnson would like to remain in power until the autumn, before handing over to a new Conservative leader, elected by the members of that party after an election process.
However it's far from certain that his wish will be granted, as many of his own team are calling for him to leave as soon as possible. If that were to happen, it's likely a 'caretaker' prime minister will be put in place while a leadership election happened.
In either case, the running of the government would continue and civil servants - people who work for the government and help it carry out its day-to-day work but who aren't politicians - would also carry on with their work.
What has the reaction been so far?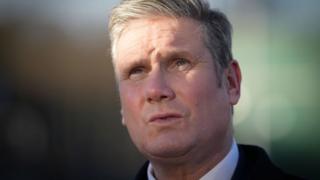 Getty Images
Reaction has been coming in to Boris Johnson's decision to step down from people across all parties.
Sir Keir Starmer, the leader of opposition party Labour, said it was "good news for the country".
But he also demanded that Boris Johnson stand down as PM immediately, saying it's not fair on the country for him to stay on as caretaker prime minister.
"He needs to go, he can't cling on," Mr Starmer says. "His own party has decided it's time - so they can't inflict him on the country for the next few months."
"The change we need is not just at the top, we need a change of government. We need a Labour government."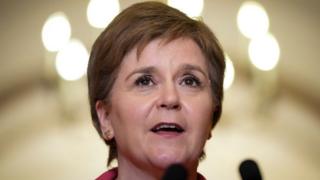 Getty Images
First Minister of Scotland and SNP leader, Nicola Sturgeon, was also pleased with the news but believed that the prime minister should leave sooner rather than later.
On social media, she shared her thoughts, saying the "notion of Boris Johnson staying on as PM until autumn" was "not sustainable".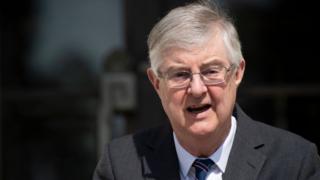 Getty Images
"All four nations need a stable UK government and I am therefore pleased to see the prime minister has now done the right thing and agreed to resign," says Welsh First Minister Mark Drakeford.
Mr Johnson has appointed a new top team to serve with him until a new leader is found, which includes foreign Secretary Liz Truss who agreed the PM had made the right decision to stand down.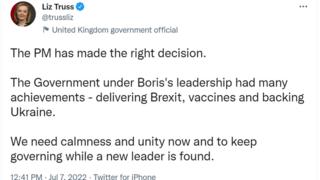 @trussliz/Twitter
However, many senior members of his own party are also calling for Mr Johnson to leave Downing Street today.
Conservative George Freeman, who quit his job as science minister on Thursday, encouraged Mr Johnson to leave immediately.
He suggested that Mr Johnson should "apologise to Her Majesty and advise her to call for a caretaker prime minister".
Business Secretary Kwasi Kwarteng says a new leader should be found "as soon as practicable".