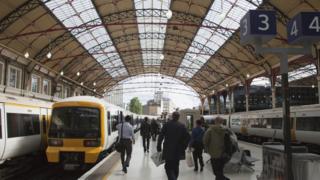 Getty Images
This week around 40,000 railway workers across the UK are asking for more pay and better working conditions.
Railway staff on many train lines are taking part in a strike - meaning they will not work on certain days.
Strikes are an effective way to protest because they have a big impact - they often get lots of media coverage and cause disruption for the company and those who use their services.
The strikes mean lots of train services are cancelled, affecting people who use the train to get to work or school.
We want to know if the train strikes have affected you?
Head to the comments to let us know.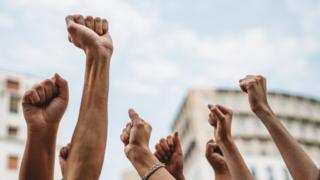 Getty Images
Strikes are a way of people protesting against something they think is unfair.
Workers hope that by stopping working the people in charge will listen to their demands.
Railway workers are unhappy with how they say they are being treated by their employers and they hope striking will change that.
The rail strikes will happen on Tuesday 21 June, Thursday 23 June and Saturday 25 June.
There will also be a strike on the London Underground on Tuesday 21 June.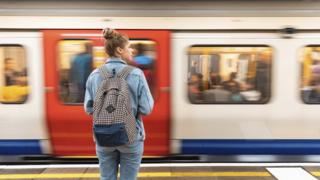 Getty Images
We want to know if the train strikes have affected you?
Many GCSE and A-level exams are taking place this week and the head of the UK's largest headteacher union said she is worried about the disruption the strikes will cause.
Julie McCulloch, policy director at the Association of School and College Leaders, said:
"We would urge anybody who is concerned about their ability to attend an exam to talk to their school or college at the earliest opportunity to discuss the options that are available.
We want to know has the strikes impacted your journey to school? Maybe your parents are working at home this week rather than travelling to work by train.
What have people said about the strikes?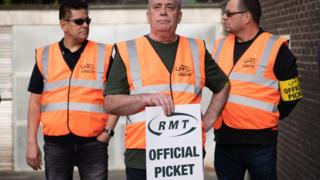 PA Media
The main union involved in the strikes is the National Union of Rail, Maritime and Transport Workers (RMT) and the leader of the union, Mick Lynch, said his organisation was "leading the way" over pay concerns and fears about job cuts.
Steve Montgomery, who chairs the Rail Delivery Group of train companies said it couldn't afford what the unions wanted: "Instead of striking, we need the RMT leadership to work with us to secure a deal that is fair to our staff, fair to our passengers and fair to taxpayers," he said.
Mr Lynch said railway staff were "sick and tired of having their pay and conditions slashed" and that it was the "time to stand up and fight for every single railway worker in this dispute that we will win."
He also apologised for the disruption to passengers, but accused the government, which owns part of the railway network, of stopping the train employers and the RMT from reaching a settlement.
The government have denied this saying the argument is between rail bosses and the unions. However Prime Minister Boris Johnson said that due to rising prices - known as inflation - large pay rises should be avoided.
He also warned passengers must be ready to "stay the course" during the strikes but Mr Johnson also said that he felt that without changes to the industry, train companies were at risk of going bust and risked passengers facing ever-increasing prices that could lead to them abandoning rail travel.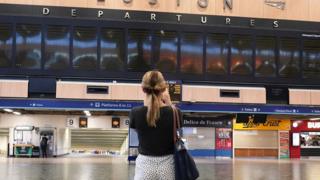 PA Media
Meanwhile the government has also criticised the Labour Party for failing to condemn the strikes and trade unions - who give lots of money to the party.
However, Labour's leader Sir Keir Starmer said the strike would mean businesses would struggle, schools exams would be hard to get to and hospital appointments would be missed: "That's why I have said the strikes should not go ahead," he added. The party asked MPs not to show support by joining striking workers.
Meanwhile Deputy leader Angela Rayner blamed the government for causing the strikes and for not sorting the situation out, saying: "No one takes strike action lightly - I will always defend their absolute right to do so for fairness at work."