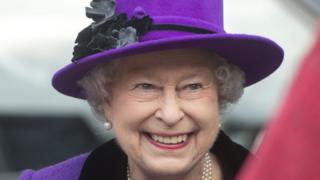 PA Media
Buckingham Palace has unveiled the full line-up of celebrations to mark the Queen's Platinum Jubilee this year including a competition to create a royal pudding.
Street parties, a concert with some of the world's "biggest entertainment stars", a chance to see the Queen's homes and a spectacular street parade are all included in the plans.
It will all end with a special four-day Bank Holiday weekend from Thursday 2 to Sunday 5 June 2022.
On 6 February the Queen will have reigned for 70 years - she's the first British monarch to reach the milestone.
There'll be a year of events throughout the UK, Commonwealth and around the world to mark the occasion.
Let's find out more...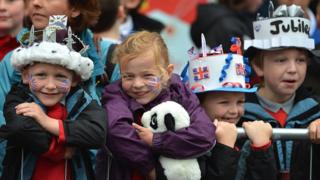 Getty Images
On 10 January the Platinum Pudding Competition was won by a special a lemon and Swiss roll amaretti trifle.
Coronation Chicken was invented for the Queen's coronation in 1953 so it is fitting that for her Platinum Jubilee the should be a tasty treat too, right?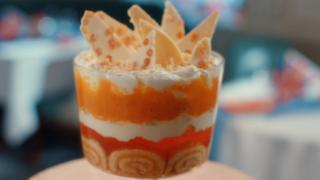 Anyone over eight was able to take part in the competition and the panel of judges (including former Great British Bake Off judge Dame Mary Berry) picked the idea of Jemma Melvin, from Southport.
Platinum Jubilee Celebration on 12-15 May - More than 500 horses and 1,000 performers took part in a 90-minute show taking the Windsor Castle audience through history right from Elizabeth I to present day.
Thursday 2 June - Sunday 5 June Platinum Jubilee bank holiday - There will be a four-day Bank Holiday weekend to celebrate The Queen's 70 year reign.
Two of the Queen's homes, Sandringham and Balmoral will be open to members of the public across the Bank Holiday for anyone who fancies a glimpse into how she lives.
On Thursday 2 June, the first day of the special bank holiday, Platinum Jubilee weekend celebrations will start with the Trooping of the Colour.
There will be more than 1,400 parading soldiers, 200 horses and 400 musicians taking part. Tickets are available to the public.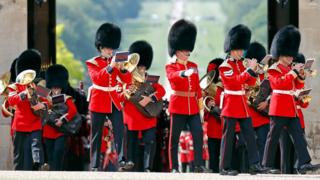 Getty Images
Also on this day, beacons will also be lit throughout the UK, Channel Islands, Isle of Man and UK Overseas Territories - it's a tradition which is done to celebrate royal jubilees, weddings and coronations.
The Principal Beacon will also be lit in a ceremony at Buckingham Palace.
On Friday 3 June there will be a service of Thanksgiving for the Queen's reign at St Paul's Cathedral.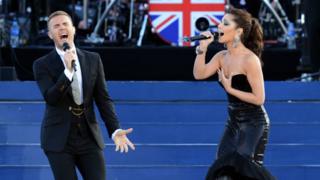 Getty Images
On the Saturday 4 June there will be a live concert at Buckingham Palace - the Platinum Party at the Palace - and members of the public can apply for an invite.
Performers haven't been revealed yet, but it's being described as bringing together some of the world's biggest entertainment stars. The ballot for UK residents to secure tickets will be launched in February.
There will be a Big Jubilee Lunch on the Sunday 5 June with people encouraged to share friendship, food and fun with neighbours through street parties, BBQs or tea parties.
There will also be a pageant held in London with more than 5,000 people from across the UK and Commonwealth involved and combining street arts, theatre, music, circus, carnival and costume.
Primary and secondary school children have been invited to create a picture of their hopes and aspirations for the planet over the next 70 years.
Some of these will be chosen to decorate over 200 silk flags which will be paraded through along the Mall in London as a 'River of Hope'. The winning designs will also be digitised to be shown on big screens around the UK.
Trapeze artists, a giant dragon puppet and acrobats will feature as well as street theatre - with a specially-written fairy story There Once Is A Queen by author Sir Michael Morpurgo brought to life throughout the day.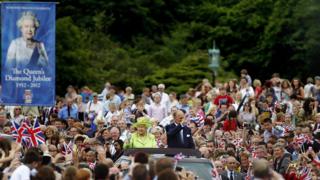 PA Media
People who work in public service, including representatives of the Armed Forces, the emergency services and the prison services, will also be awarded a Platinum Jubilee medal.
Throughout the year, the Queen and members of the Royal Family will travel around the country carrying out a range of royal events.
Communities, schools, gardeners and companies are also being encouraged to plant trees as part of a special initiative called the Queen's Green Canopy scheme to mark the Jubilee,
Will you, your family or school be marking the Queen's Platinum Jubilee? If so, let us know in the comments below.