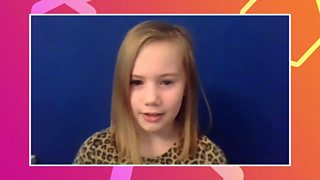 'Diabetes is not my name'
While the UK has been in lockdown because of the coronavirus, some people who are classed as vulnerable have needed to self-isolate to protect them from getting Covid-19.
This includes people who have diabetes like nine-year-old Daisy.
Diabetes is a condition which causes a person's blood sugar level to become too high or low and Daisy has type 1 diabetes, which is a life-long condition, so she needs to have regular check-ups to keep her healthy.
According to healthcare company Abbott, nearly half (49%) of parents/carers say their diabetic child is more anxious as a result of the pandemic.
Shanequa caught up with Daisy to see how she's getting on and hear her newly written poem...