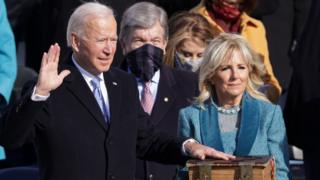 Getty Images
Joe Biden has officially become the 46th President of the US.
After being sworn in the inauguration, he made an emotional speech.
He said: "I will be a president for all Americans. I will fight as hard for those who did not support me as for those who did".
Speaking of the challenges that his administration will face, President Biden says he will "confront and we will defeat" each obstacle.
What did Joe Biden say in his speech?
Delivering a message of unity after the often angry election, Mr Biden promised to be a president "for all Americans" - including those who voted against him.
"The American story depends not on any one of us, not on some of us, but on all of us. On we the people who seek a more perfect union. This is a great nation, we are good people....But we still have far to go.
"My whole soul is in this. Bringing America together, uniting our people, uniting our nation. And I ask every American to join me in this cause. Uniting to fight the foes we face
"With unity we can do great things, important things. We can right wrongs, we can put people to work in good jobs, we can teach our children in safe schools... we can secure racial justice and we can make America once again the leading force for good in the world.
"We can see each other not as adversaries but as neighbours. We can treat each other with dignity and respect. We can join forces, stop the shouting and lower the temperature... This is our historic moment of crisis and challenge. And unity is the path forward. And we must meet this moment as the United States of America."
Kamala Harris becomes first female VP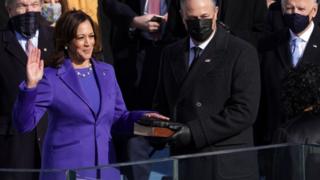 Getty Images
Kamala Harris became the first female Vice-President and the first black and South Asian American to ever take on that job.
Ms Harris, who is of Indian-Jamaican heritage, initially ran to be her party's pick for President, but Mr Biden won the race and chose Ms Harris as his running mate.
Before taking the oath at the US Capitol, Ms Harris paid tribute to the women who she says came before her.
"I stand on their shoulders," she said in a video.
Ms Harris, 56, was born in Oakland, California, to two immigrant parents: an Indian-born mother and Jamaican-born father. Ms Harris says she's always been comfortable with her identity and simply describes herself as "an American".
What was the inauguration like?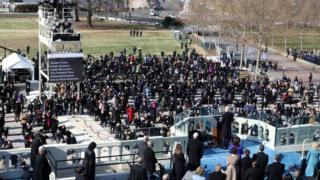 Getty Images
Because of the coronavirus, the inauguration was a lot smaller than it normally would be.
Biden asked that those in the audience hold a silent moment of prayer "for those we've left behind and for our country".
He gave his inauguration address in front of a largely empty Mall that would normally be filled with supporters if not for the coronavirus pandemic.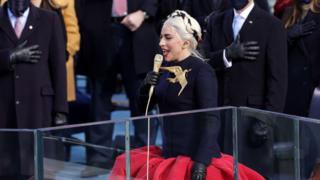 Getty Images
But as is tradition there were still some musical performances, Lady Gaga sang America's national anthem, and Jennifer Lopez sang too.
"Singing our National Anthem for the American People is my honour," Lady Gaga wrote. "I will sing during a ceremony, a transition, a moment of change... For me, this has great meaning."
Who was the young poet Amanda Gorman?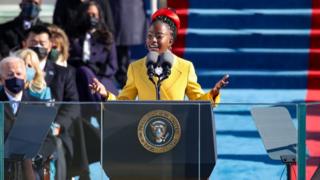 Getty Images
Amanda Gorman, 22, became the youngest poet ever to perform at an inauguration.
Gorman, who was the country's first national youth poet laureate in 2017, followed in the footsteps of famous names such as Robert Frost and Maya Angelou.
Her poem, The Hill We Climb, referenced the Capitol riot earlier this month, but also underlined the theme of unity set out by the new president.
"I really wanted to use my words to be a point of unity and collaboration and togetherness," she told the BBC before the ceremony.