Diego Maradona has died at the age of 60.
The former Argentina international - who helped his country to win the 1986 World Cup - is regarded as one of the greatest footballers of all time, and also one of the most controversial players.
Maradona played club football for Boca Juniors, Napoli and Barcelona during a glittering career where he won many trophies.
Maradona is regarded by many as the greatest footballer of all time thanks to his abilities on the pitch.
In a career spanning two decades, he scored more than 300 goals at club level and 34 goals for Argentina.
Following the announcement of his death, former England footballer and Match of the Day host Gary Lineker - who played against Maradona - said: "By some distance the best player of my generation and arguably the greatest of all time."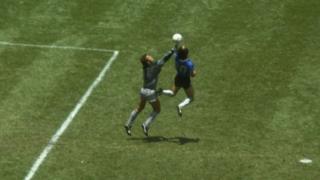 Getty Images
Maradona became infamous in England for his 'hand of God' moment against England in the 1986 World Cup.
With the match tightly poised, Maradona out-jumped England keeper Peter Shilton and punched the ball into the net with his hand.
But the ref didn't see it and the goal was awarded anyway. When challenged afterwards about cheating he said it was a goal scored "a little with the head of Maradona and a little with the hand of God."
The match finished 2-1 to Argentina with Maradona scoring a second goal - which was also famous as he dribbled through most of the England team -and they later went on to win the whole tournament.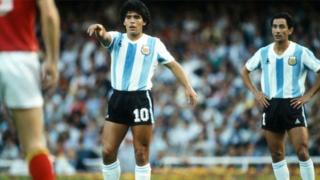 Getty Images
Maradona was born in Lanus in the Buenos Aires Province of Argentina in 1960.
By the age of 16 he had made his debut for Argentinean top division side, Argentinos Juniors, becoming the youngest ever player to do so.
After a spell with Boca Juniors, Maradona got a move to Europe with Spanish giants Barcelona in 1982.
He was so sought after that Barcelona had to pay a world record £5m fee for his services.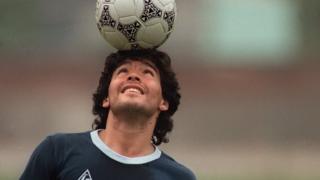 AFP
Just two years later, Maradona moved to Italian side Napoli for another world record fee. This time it was £6.9 million.
It was here that he really made his mark, transforming the team into title winners for the first time in the 1986-1987 season.
He was adored by the fans and regularly couldn't leave his house without a crowd of people forming outside.
Tributes played to "one of the best ever"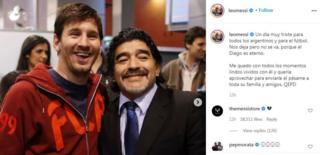 leomessi/instagram
Messi and Ronaldo were among current players to pay tribute to Maradona.
Lionel Messi played for Maradona for two years when he was coach of Argentina, posting on social media: "A very sad day for all Argentines and for football. He leaves us but does not leave, because Diego is eternal.
"I keep all the beautiful moments lived with him and I wanted to take the opportunity to send my condolences to all his family and friends."
Cristiano Ronaldo said: "Today I bid farewell to a friend and the world farewells to an eternal genius. One of the best ever, an unmatched magician. Leaves too soon but leaves a boundless legacy and a void that will never be filled. RIP. You will never be forgotten."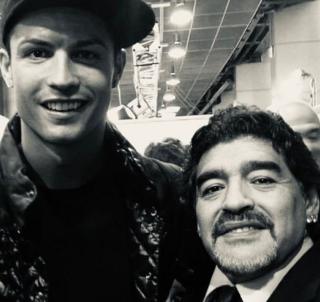 @CristianoRonaldo/Twitter
Brazilian football great Pele said he hoped one day they would "play ball together in the sky".
A minute's silence took place before Wednesday's Champions League matches and the same will happen before all other European fixtures this week, and fans of all the clubs he played for have left tributes outside stadiums.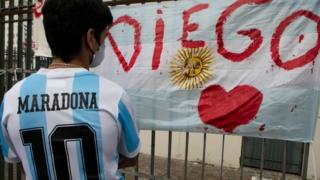 Getty Images
Manchester City manager Pep Guardiola said Maradona "made world football better".
"There was a banner in Argentina, one year ago, that I read that said: 'No matter what you have done with your life, Diego, it matters what you do for our lives,'" the former Barcelona coach added.
England captain Harry Kane tweeted: "Privileged to have met him. Very sad news. RIP Diego Maradona."
Former Tottenham manager and Argentina defender Mauricio Pochettino said: "You were my hero and friend. I was so fortunate to have shared football and life with you."
The Vatican said Pope Francis, an Argentine and a football fan, would be remembering Maradona in his prayers.

Richard Atherton-Manchester
Why is Diego Maradona controversial?
Maradona had problems with alcohol and drugs during his career as he struggled to deal with the limelight of being the best player in the world.
During his time with Napoli, he was also accused by the Italian authorities of having a close relationship with the Italian mafia.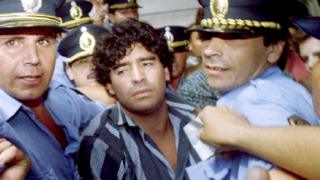 Reuters
In 1994, he was sent home in disgrace from the World Cup after testing positive for a banned substance.
Once he retired from professional football, Maradona had numerous health problems to do with his fluctuating weight, requiring emergency surgery.
He's also faced criticism for his political views in his native Argentina and has been accused of racism.