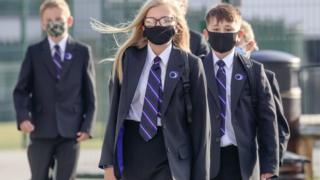 PA Media
Schools in Northern Ireland will shut for at least two weeks from Monday 19 October.
The closure will include the half-term holiday to reduce the impact on education.
The changes are being brought into force in the country as part of what is being called a four-week 'circuit breaker' lockdown, where some businesses have also been told to close temporarily, to slow the spread of coronavirus.
The Northern Ireland executive says schools will be shut until Monday 2 November, and the closure will be reviewed after the two-week break.
First Minister Arlene Foster said: "We fully appreciate that this will be difficult and worrying news for a lot of people. The executive has taken this decision because it is necessary, and we discussed the impacts in great detail. We do not take this step lightly."
Northern Ireland's government is going to continue to pay parents a cash payment for free school meals for the two weeks they are in lockdown. The grant is equivalent to the cost of a Free School Meal which is £2.70. Parents will be paid £2.70 per day for over the two weeks schools are closed.
What is a 'circuit breaker' lockdown?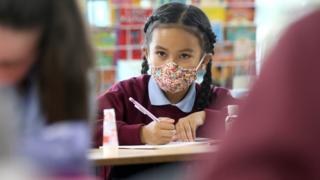 Pacemaker
It's a short, set period of maybe two or three weeks, where tighter restrictions are brought in with the idea of breaking up a the spread of coronavirus cases.
This type of lockdown could see schools close temporarily as well as some businesses.
It should result in cases falling - as they did over the summer during national lockdown - but how far they drop would be uncertain and would depend on how strict the rules were were.
It's being called a 'circuit breaker' because it's comparing the virus spread to electricity current, when you cut the power cable, and the hope is that the spread will stop.
The government's scientific advisory group, Sage, has said a circuit break could have "similar levels of effectiveness" to the spring lockdown - but the shorter period would mean the overall effect would be more limited.
Why is it happening in Northern Ireland?
Northern Ireland has seen a significant rise in cases recently and Ms Foster says the country needs to "reach a different place on both the numbers and on getting back to the basics of social distancing.
"I know everyone will want to work with us on that. Small acts can have large and important contributions"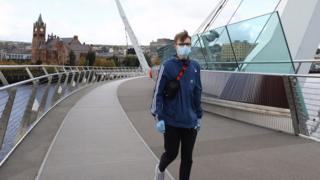 Liam McBurney/PA Media
In a social media video, Ms Foster said the executive would financially support those affected by further restrictions "as best we can".
Could a 'circuit breaker' happen in other parts of the UK?
In Wales, the First Minister Mark Drakeford says the Welsh government is "planning very seriously" for a circuit breaker lockdown "should it be necessary". However it's unclear whether the plans would be similar to Northern Ireland with schools closing.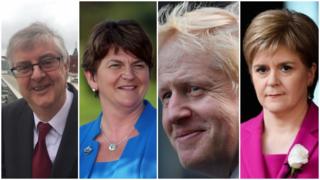 AFP/Getty
In England, Prime Minister Boris Johnson has introduced a new tier system of restrictions to deal with the spread of coronavirus but the leader of the opposition Labour Party, Sir Keir Starmer says he wants the UK government to introduce a circuit breaker lockdown.
Meanwhile, the First Minister for Scotland, Nicola Sturgeon says she plans to introduce her own tier system for Scotland.