Prime Minister Boris Johnson has spoken to the nation explaining why he is introducing new rules in England to stop the spread of coronavirus.
He also explained how he's working with colleagues around the UK to help keep schools open while restricting other parts of life - for a period that he says could last six months.
It came after tighter rules were announced for England and Scotland earlier on Tuesday.
In a television broadcast on Tuesday night, Mr Johnson warned of tougher measures if people don't follow the rules. He said too many "breaches" of the rules had allowed the virus to spread.
"This is a struggle that humanity will win, and we in this country will win - and to achieve what we must I want to talk to you directly tonight about the choices that we face - none of them easy - and why we must take action now," he said.
In his address, Mr Johnson said he didn't want to restrict people's freedoms but said that he hoped action now would mean we wouldn't have to go back to a full lockdown like we saw earlier this year.
"If we were forced into a new national lockdown, that would threaten not just jobs and livelihoods but the loving human contact on which we all depend.
"It would mean renewed loneliness and and ultimately it would threaten once again the education of our children. We must do all we can to avoid going down that road again."
Now is the time for us all to summon the discipline, and the resolve, and the spirit of togetherness that will carry us through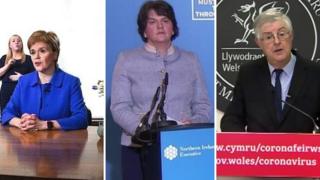 Scotland Wales and Northern Ireland have their own powers over coronavirus restrictions, and their leaders made separate televised addresses on Tuesday evening.
Scotland's First Minister Nicola Sturgeon said the nation had to choose its priorities, adding that staying out of other people's houses gave "the best chance of bringing Covid back under control". People in Scotland are now not allowed to visit other people in their homes.
Meanwhile, Wales' First Minister Mark Drakeford urged people not to let the virus "take a hold of our lives again", and in Northern Ireland, where households were already banned from mixing indoors, First Minister Arlene Foster said tougher restrictions should act as a "wake-up call" that "we are not out of the woods".
So what are the new rules around the UK?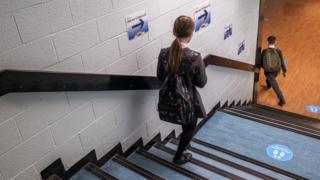 Getty Images
ENGLAND: For the moment there are no changes for schools in England. Children are expected to continue to go to lessons, just as they have been doing since the start of September.
The prime minister said the government wants to "ensure schools, colleges and universities stay open". ​He added that "nothing is more important than the education, health and wellbeing of our young people."
SCOTLAND: There are also no changes for schools in Scotland.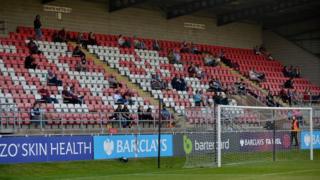 Getty Images
ENGLAND: Some indoor sport and five-a-side football games will no longer be allowed in England as the government says they have to follow the rule of six.
However, Boris Johnson insisted outdoor exercise and outdoor team sport is still allowed, saying "we want that to continue".
Meanwhile any plans for fans to watch Premier League football has been put on hold. The partial reopening of stadiums planned for the beginning of October has been cancelled.
This month, pilot events were restricted to 1000 spectators but the new rules mean sport fans will still not be able to enter sports stadiums to watch the action.
SCOTLAND: Fans were expected to begin returning to Scottish sports stadiums from 5 October. However, Ms Sturgeon has said this is "unlikely to go ahead" on that date.
It means Scotland's Euro 2020 play-off semi-final with Israel on 8 October will be behind closed doors. Scotland's Nations League match again Slovakia will also take place without fans present.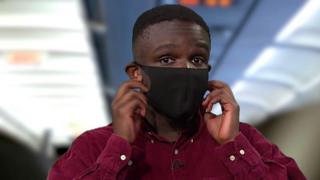 ENGLAND: The PM also announced that people will be expected to wear face coverings in more places.
Face masks will become compulsory for shop workers, waiters and taxi drivers in England.
People eating or drinking in a restaurant for example, still don't need to wear one though.
SCOTLAND: There are no further changes to the rules on face masks in Scotland.
By law, people must wear face coverings in shops, on public transport and in indoors spaces including restaurants, libraries and places of worship.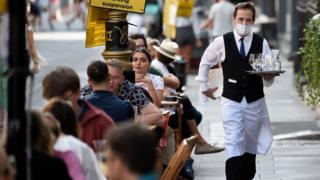 Getty Images
ENGLAND: From Thursday, all restaurants and pubs in England must operate a table-service only and will be forced to close at 10pm. Takeaways are not included.
Mr Johnson apologised for the impact on businesses saying: "I'm sorry, but we must act".
From Monday, a maximum of 15 people will be able to attend wedding ceremonies and receptions - but up to 30 can still attend a funeral.
SCOTLAND: Ms Sturgeon has also introduced a nationwide 10pm curfew for pubs, bars and restaurants in Scotland.
However, she said stricter measures could be introduced if businesses fail to fully follow the rules on hygiene, face coverings, table service, social distancing and maximum numbers in groups.
ENGLAND: The prime minister said that guidance continues to be that you do not need to shield except in local lockdown areas - but that will be kept under "constant review".
SCOTLAND: Ms Sturgeon also announced there won't be a return to shielding for vulnerable people living in Scotland.
She said their safety was important to the government, but that it does not believe it is right to ask this group to return to shielding.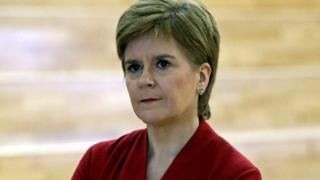 PA Media
ENGLAND: Exemptions to the "rule of six" will be cut back, meaning indoor team sports such as five-a-side football matches will end.
SCOTLAND: However, Ms Sturgeon has introduced a ban on meeting in other people's homes "after careful consideration". The new rule comes into effect from Wednesday.
The measure is already in place for more than 1.75 million people in Glasgow and some neighbouring areas but it will now apply nationally.
The new restrictions will be reviewed every three weeks. Those who live by themselves or alone with young children are exempt.
Up to six people from two different households can continue to meet outside, including in private gardens.
However, children under the age of 12 aren't included, so don't count in both the limit of six and the limit of two households if they are meeting outdoors.
Young people aged between 12 and 18 will be exempt from the two household limit, but will still only be able to meet outdoors in groups of up to six.
ENGLAND: Mr Johnson says there's "nothing more frustrating" for the rule-obeying majority than people breaking them.
The penalty for not wearing a mask or breaking the "rule of six" will double to £200 and there is also the option for the police to have support from the military in enforcing the rules.
What's happening elsewhere in the UK?
There are different rules across the UK.
In Northern Ireland different households cannot mix indoors and no more than six people from two households can meet in a garden.
However, people who live on their own or need care can be visited by people who are within their bubble.
Schools are not affected and young children can be cared for by others if their parents are in work.
First Minister Arlene Foster said "this is not a return to lockdown", but "doing nothing is not an option".
She added: "The restrictions are limited and we are in a better place than at the height of the pandemic."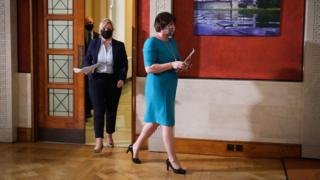 Kelvin Boyes/Press Eye/PA Wire
In Wales, around a third of the population are currently under a form of local lockdown and the government has asked people living in the country only to travel if "necessary".
Four more council areas - Newport, Bridgend, Blaenau Gwent and Merthyr Tydfil - saw extra restrictions introduced from 6pm on Tuesday.
They follow Caerphilly county borough and Rhondda Cynon Taf which were already in local lockdown.
The rules prevent people from entering or leaving these areas without a reasonable excuse. Gatherings will only be allowed outdoors and are banned indoors.
Restaurants and pubs now have to close from 10pm.
Health Minister Vaughan Gething said: "It's always a difficult decision to introduce restrictions but coronavirus has not gone away - it is still circulating in communities across Wales and, as we are seeing in parts of South Wales, small clusters can quickly cause real issues in local communities."