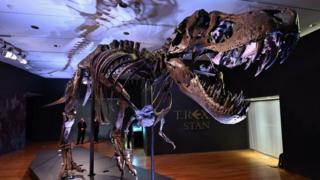 Getty Images
The skeleton of a Tyrannosaurus rex has just sold for a huge £31.8 million (that's about £25 million) in New York.
An impressive 280,000 people from around the world are reported to have tuned in to watch the auction online, run by famous auctioneers Christies.
There were high hopes for a big sale with this skeleton - back in October 1997, a T-rex, called Sue, sold for $8.4 million (that's about £6.5 million).
But the impressive Stan stunned its virtual audience and smashed the previous world auction record for a dino skeleton to raise a massive $31,847,500.
The skeleton is 12m long and is said to be one of the most well-preserved T-rex specimens ever found.
The T-rex was discovered in 1987 in Buffalo, South Dakota, USA.
It was given the name Stan after the amateur palaeontologist who discovered him.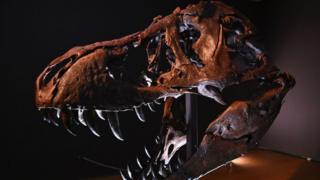 Getty Images
It took over three years to excavate his skeleton, of 188 bones, as well as reconstruct it.
Since then, Stan has been exhibited in Dakota's Black Hills Geological Research Institute.
He has been used to make replicas for dozens of museums who wanted their own T-rex model.
Researchers believe Stan died around 60 million years ago when he was 20 years old.
Scientists think that T-rexes usually lived around 28 years, and some studies have found that they went through growth spurts in their teenage years.
Only around 50 T-rex skeletons have been discovered since the first one was uncovered in 1902.