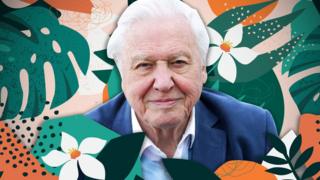 Getty Images
Sir David Attenborough has praised the efforts of young people who have 'woken up' the world to the threat of climate change.
The broadcaster and naturalist has been speaking to the BBC ahead of a new documentary film called A Life On Our Planet looking back on the now 94-year-old's career exploring the world.
"And there I was, actually being asked to explore these places and record the wonders of the natural world for people back home.
"To begin with it was quite easy. People had never seen pangolins before on television, they had never seen sloths before, they had never seen the centre of New Guinea before.
"It was the best time of my life."
Reflecting on his work, he said he has warned about damage to the environment for a long time and "yet suddenly, in the last five years maybe, it's as though people have woken up, it's young people… and not before time," he said.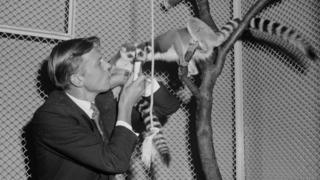 Getty Images
Sir David says he realised the damage that was being done to the Earth in the 1960s while swimming in Australia.
"I swam in a coral reef in Australia and saw a damaged reef, It was a terrible sight… like a cemetery," he said.
Despite the problems the planet faces because of climate change, he believes we cannot give up trying to improve things.
"I don't despair because what will you go and do? Just go and hide in the corner? Crying in the corner and forgetting it all and giving up?
"If there's only a fragment of hope we have a responsibility to do something about it."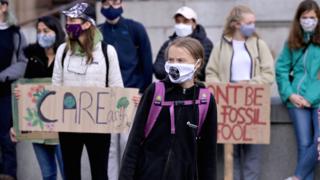 Reuters
Sir David became the fastest person to have one million followers on Instagram recently after he joined the platform to reach out to younger people, many of whom support his message of protecting the natural world.
"That's the great hope," he says, "it's their world and it's their tomorrow. I won't be there, they will be.
"Of course it's very important that young people should be concerned about this and they are in increasing numbers.
"I feel privileged that they should listen to what an old bloke like me is talking about."
Last year thousands of school children all over the world and led by Greta Thunberg took part in school strikes in protest against climate change.
However, the school strikes were not the only demonstrations.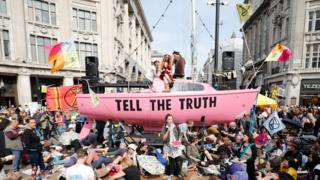 Getty Images
Extinction Rebellion demonstrated against a lack of action by global leaders in response to climate change and caused 'major disruption'.
In April 2019 several protestors blocked roads in London while others glued themselves to the roof of a train.
"You have to be careful that you don't break the law - We have to treat the people we share our community with, with respect," says Sir David.
"Disturbing their lives, to such an extent that innocent people can't get about their own business, is a serious thing to do and could disenchant an awful lot of people."
He added: "Of course I agree with their message, it's a question of what is sensible in persuading other people to join you?"
Despite questioning some methods, Sir David says it is right to challenge those in power who are taking a relaxed approach to climate change.
"We can't take that as an excuse for doing nothing.
"China is taking very big steps. It's a huge country with an immense population and they're starting doing things about sorting out their climate and their weather, which has caused them such problems.
"The present administration in America, is, from a conservationist point-of-view, disastrous but… that's who's been elected and we have to go through it."
Every breath of air we take, every mouthful of food we eat, comes from the natural world ultimately, and if we damage it we damage ourselves.
Asked what changes people can make in their own lives, Sir David said:
"Don't waste, don't waste anything, don't waste electricity, don't waste food, don't waste power. Just treat the natural world as though it's precious, which it is, and don't squander those bits of it that we have control of.
"Since I made the very fist television programme, there are three times as many people on the planet as there was then and we have overrun it and now we're realising what appalling damage that we've done.
"Every breath of air we take, every mouthful of food we eat, comes from the natural world ultimately, and if we damage it we damage ourselves."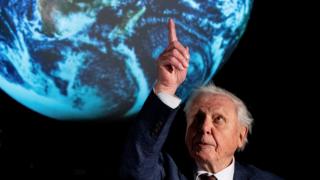 Getty Images
David Attenborough: A Life on Our Planet is showing in cinemas for one day only on 28th September before going on Netflix on on 4th October.
It looks back at how different the natural world is now compared to when Attenborough's early programmes were filmed.
Sir David says: "Wherever I went, there was wilderness. Sparkling coastal seas, vast forests, immense grasslands. You could fly for hours over the untouched wilderness.
Now he says more effort needs to be put into re-wilding the whole planet - to allow nature and animals the chance to strengthen - and for humans to support that process,
"It's straightforward. The only way out is to rewild the world... t's simpler than you might think...A century from now, our planet can be a wild place again."
"It's not really about saving the planet. It's about saving ourselves," he added.
The film is being released at the same time as Sir David's book, 'A Life On Our Planet: My Witness Statement And Vision For The Future', which will be published in the autumn.
He has said that the book records "some of the dreadful damage mankind has already wrought upon the natural world and the real and imminent danger that things could get much, much worse if we do not act now".
"But it is also a hopeful book - it offers a different future."