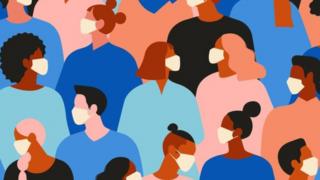 Getty Images
There are different rules on face coverings across the UK.
It can depend on a person's age, where they are, what they're doing and if there's a health reason that might mean they can't wear one.
Some people do NOT have to wear a face covering. They include people who are:
•Under 11 in England or Wales
•Under 13 in Northern Ireland
•Under 5 in Scotland
•Or if there's a health reason that means you can't put one on, wear one or you're with someone who needs you to not be wearing a face covering e.g. if they rely on lip reading.
Even though some people don't have to wear a face covering, they may still choose to do so.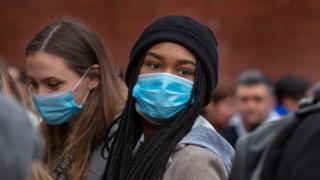 Getty Images
But if what's above doesn't apply to you then generally you'll need to wear a face covering if you're on public transport, in shops or shopping centres, or at a food or drink venue but aren't seated.
In England and Scotland face coverings have to be worn in indoor spaces like banks, places of worship, museums, entertainment venues and libraries.
In Wales face coverings must be worn in all indoor public places by customers and staff.
In Northern Ireland they must be worn in indoor places where goods or services are available to buy or rent.
Other places and companies may ask you to wear a face covering too and they'll usually put up a sign to let you know.
But remember there are also times when face coverings can be removed in these places such as needing to eat, drink or take medication, or if a police officer or other official asks you to do so, or by staff at places that need to check your age or identity.
There are other times when people are indoors when they can remove their face coverings such as when they're exercising or they need to for work.
Schools
Rules for schools vary across the UK and some people won't have to wear a face covering for health and wellbeing reasons, but the rules are:
In England pupils and teachers in secondary schools have to wear face masks in communal areas and corridors
In Scotland secondary school pupils should wear face coverings in corridors and communal areas, and senior pupils and their teachers must wear them in class. All staff must wear masks where social distancing is not possible.
In Wales face coverings are recommended in high schools when social distancing is not always possible but they're not compulsory.
In Northern Ireland face coverings must be worn in the corridors of post-primary schools.
If you can't see this interactive guide, click here.
How do face coverings and masks work?
Coronavirus is believed to spread when droplets are sprayed into the air as infected people talk, cough or sneeze. Those droplets can then fall on surfaces.
Face coverings can help reduce the spread from people who are contagious but have no symptoms, or are yet to develop symptoms. These people are described as being asymptomatic.
The World Health Organization (WHO) says masks could provide "a barrier for potentially infectious droplets" in areas where "physical distancing of at least one metre is not possible" - so it says face coverings should be worn in public where it's hard to socially distance.
The government says face coverings should cover the mouth and nose and can be as simple as a scarf or bandana that fits without having to be held in place.
Who doesn't need to wear a mask?
In England and Wales, children under the age of 11 don't have to wear face coverings. In Scotland, anyone over he age of five has to wear a covering, and in Northern Ireland children over the age of 13 are required to wear one
.Government guidance also sets out a list of "legitimate reasons" not to wear a covering.
They include:
- those who cannot put on, wear or remove a face covering because of a physical or mental illness or impairment, or disability
- those who will be caused severe distress by putting on, wearing or removing a face covering
- people travelling with or providing assistance to someone who relies on lip reading to communicate
- to avoid harm or injury, or the risk of harm or injury, to yourself or others to avoid injury, or to escape a risk of harm
- to eat or drink if reasonably necessary
- to take medication
- if you are asked to remove your face covering by a police officer or other official
- if you are asked to remove a face covering in a bank, building society, or post office for identification
- if you are asked by shop staff or relevant employees to take a face covering off for identification, or by for example a pharmacist for the purpose of assessing health recommendations, or for age identification purposes including when buying age-restricted products such as alcohol
- if speaking with people who rely on lip reading, facial expressions and clear sound to help with communication.