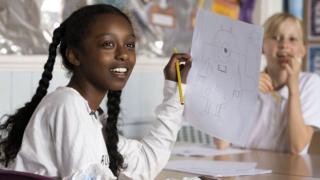 Getty Images
Plans for how schools in England should be run when students return have been announced by the government.
Although some pupils are already back in school, all children in England are expected to be back in classrooms full-time from September.
Schools closed to most pupils in March because of coronavirus.
The government says it will be safe for everyone to return for the new school year.
Education Secretary Gavin Williamson told MPs: "Education recovery is critical for this generation of children... so that they have the opportunity to thrive and fulfil their full potential."
Paul Whiteman, who represents teachers as boss of one of the big teaching unions, the NAHT, warned situations like the 'local lockdown' in Leicester showed, "there will be further disruption ahead."
"It is therefore essential that Government continues to monitor the data when it comes to school return," he said, adding the government needs, "a credible Plan B in place should it be required."
So how will school be different when you start the new term?
One of the main recommendations in the new plan is that pupils could be put into 'bubbles', meaning you spend time with the same people all week, and do not get to spend time with children in other 'bubbles' at school.
In primary schools, it's expected children will stick to their class 'bubbles' and in secondary schools, students will stay in their year bubble, which could be up to 240 people.
It is likely 'bubbles' will be given different break, drop-off and pick-up times, spaced throughout the day.
Being in a 'bubble' might also mean that all the students are sent home if another student in the same 'bubble' becomes poorly.
As part of the plans if there are two confirmed coronavirus cases in 14 days, all the pupils in that group, or even the whole school, may have to be sent home.
The government has said that schools will have testing kits to give to parents too if students show symptoms and mobile testing units will be sent to schools which have an outbreak - that's when lots of people get ill at the same time.
Those with symptoms asked to stay at home until they feel better.
Travelling to and from school
The government wants children to walk or cycle to school, rather than take public transport, wherever they can.
For students who catch a school bus, the government have advised that where possible, 'bubbles' travel to and from school together.
Will there be social distancing?
As part of efforts to stop the spread of coronavirus, social distancing has been put in place by the government - which simply means making sure there is enough space between people to stop germs spreading.
But under the plans announced today, schools will be asked to concentrate more on reducing points of contact - which mainly means keeping the different 'bubbles' apart.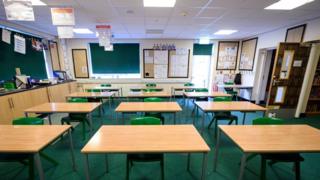 Getty Images
However, space will be made between desks and desks will be arranged so that children all sit facing in the same direction and not towards each other.
Teachers will still have to socially distance from pupils though and there will be no big group events like assemblies.
Just like you are already be doing, students will be encouraged to wash their hands regularly throughout the day to stop germs and viruses spreading.
Things that will not change
While some of these changes might seem big, many parts of school will stay the same.
Unlike some places in the UK, like airports, offices and train stations, pupils will not need to have their temperatures checked.
Teachers and students will also not need to wear face masks - because the government says this could "interfere" with teaching and learning.
And students will all still wear the same uniforms.