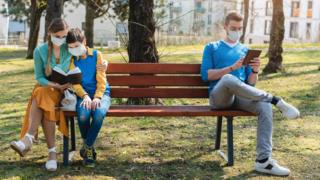 Getty Images
The two-metre rule for social distancing in England is being reduced to "one metre plus", Prime Minister Boris Johnson has announced.
It means, from 4 July, people won't need to stay as far apart from each other to avoid the spread of coronavirus.
Northern Ireland is adopting the same change from Monday, 29 June.
Scotland and Wales haven't announced any changes to social distancing rules so far.
So why the change from two metres to one, and what does the science say about it?
Why has the guidance changed?
The prime minister said the changes were possible because the number of new infections is now declining by between 2% and 4% every day.
The change was already being looked at because keeping people two metres apart would make it very tricky for places, like restaurants and cafes, to re-open and carry out their business.
Earlier this month the government was asked to change the distance rules to try to help, while keeping people safe at the same time.
A review into the two metre social distancing rule was first announced by Mr Johnson on 14 June and he met with scientists and other senior politicians to consider it on Monday, 22 June, before announcing the change the next day.
Does it make a difference if it's one or two metres?
In a study published in medical journal The Lancet, scientists looked at research into how coronavirus spreads.
They concluded that keeping at least one metre from other people could be the best way to limit the chances of infection.
But they also said it is still safer to stay further away from others if you can.
The study said that the risk of being infected is thought to be 13% you are one metre apart - but if you're further away than that, the risk could be at least 10% lower.
The government said it looked at the science when deciding to get rid of the two metre rule and will publish a report with more details later this week.
Mr Johnson said: "Where it is possible to keep two metres apart, people should."
How else can you make sure you are staying safe?
The nearer you are to someone who has coronavirus, the greater the risk of you catching the virus.
Scientists say where two metres of social distancing is not possible, people should only be closer for short amounts of time.
They say spending six seconds at a distance of one metre from someone is the same as spending one minute at a distance of two metres.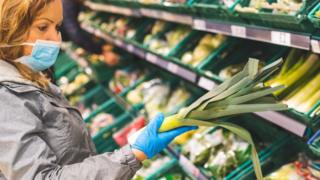 Getty Images
Plastic screens can also be used to help, as well as people wearing face coverings, which is the rule on public transport.
The prime minister is also urging people to still keep washing their hands, and warned that the government "will not hesitate to reapply the brakes" and reintroduce restrictions if the situation changes.
He said: "We have been clear that our cautious relaxation of the guidance is entirely conditional on our continued defeat of the virus."
What are the social distancing rules in other countries?
The World Health Organization, or WHO for short, recommends keeping a social distance of at least one metre.
Some countries have stuck to this, usually because people there have been told that they must wear face masks at the same time. Sometimes the rule can vary in different parts of the same country too.
It is only a few months since coronavirus emerged, so as scientists learn about it, what we're told to do to stay safe can change.