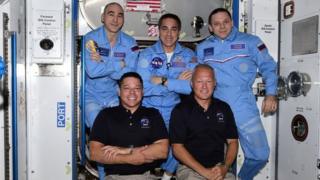 NASA
History has been made as two Nasa astronauts have safely boarded the International Space Station (ISS).
It's the first time that Nasa astronauts have been sent to space on a rocket owned by the private company, SpaceX.
The mission, Demo-2, launched from the Kennedy Space Centre in Florida on 30 May - the same launch pad used during the historic Apollo 11 Moon landings.
After reaching orbit, astronauts Doug Hurley and Robert Behken decided to give their Crew Dragon spacecraft a name: "Endeavour", as a tribute to the first space shuttle each astronaut had flown aboard.
Once onboard the ISS, Doug said: "We're just happy to be here and Chris is going to put us work. And hopefully we will fit in and not mess too many things up,"
The Demo-2 mission is important for future exploration, like the upcoming Artemis mission, which aims to put the first woman and next man on the Moon by 2024.
They will join fellow NASA astronaut Chris Cassidy, and two Russian cosmonauts Anatoly Ivanishin and Ivan Vagner on board the International Space Station.
"The whole world saw this mission, and we are so, so proud of everything you've done for our country and, in fact, to inspire the world," NASA Administrator Jim Bridenstine told the crew from Mission Control in Houston.
It has been nine years since astronauts last blasted off from American soil, Nasa stopped using their own space shuttles in 2011.
Now Nasa will use SpaceX as a 'taxi' service to send people into space, rather than using their own rockets.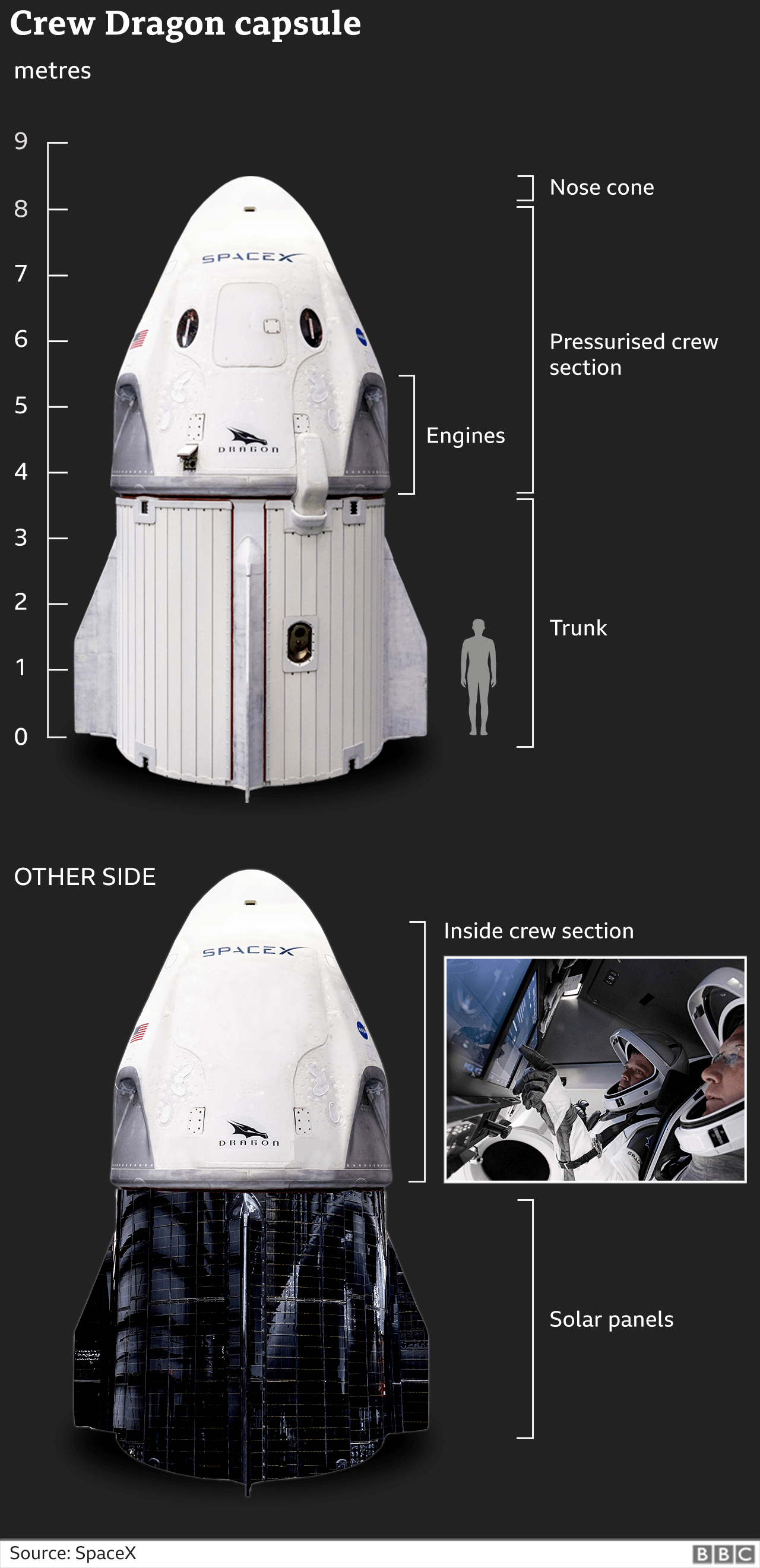 President Donald Trump, who went to Florida to watch the launch said: " We once again proudly launched American astronauts on American rockets - the best in the world - from right here on American soil."
Originally the mission had been planned to take place on Wednesday 27 May, but bad weather meant the launch had to be rescheduled for Saturday.
Eventually, even after bad weather forecast threatened to delay the mission again, astronauts Doug and Robert were blasted off into space at 17,000mph (27,000kmph) - 22 times the speed of sound.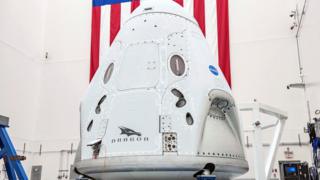 NASA
Their Crew Dragon craft flew off into space on Saturday at 20.22 UK time.
Sky watchers in the UK looking to the south west and close to the horizon could see the craft during its second pass in orbit at around 22.15.
Those watching will have been able to see what looked like a small star moving quickly across the sky.
Let us know in the comments if you saw it.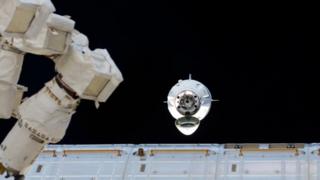 SpaceX
What is SpaceX and who is Elon Musk?
SpaceX is a private space company owned by billionaire Elon Musk, which wants to make carrying stuff into space cheaper - and one day wants to run space tourism trips into orbit and the Moon.
Elon Musk is an inventor who owns the company Tesla as well as SpaceX, and he made a lot of money by selling the online payment service PayPal to eBay.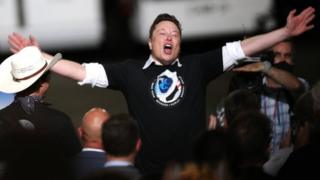 Getty Images
He recently became a father with singer Grimes, and has sometimes said controversial things on his social media accounts.
It's rumoured that Robert Downey Jr used Elon Musk as his inspiration when playing Tony Stark in Marvel's Iron Man.
Who are the astronauts and what will they be doing?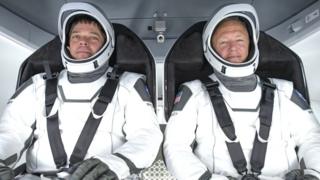 NASA
Robert Behnken and Douglas Hurley are two of Nasa's most experienced astronauts.
They have both been to space twice before, and are both married to other astronauts!
Robert and Douglas are also wearing some pretty cool new spacesuits which were custom designed by Jose Fernandez, a costume designer who worked on the Batman, X-Men and Thor movies.
The pair flew into orbit on Saturday, using a Falcon 9 rocket for lift off.
The Falcon 9 rockets are unique, in that rather than being discarded in space, they can actually land back on Earth.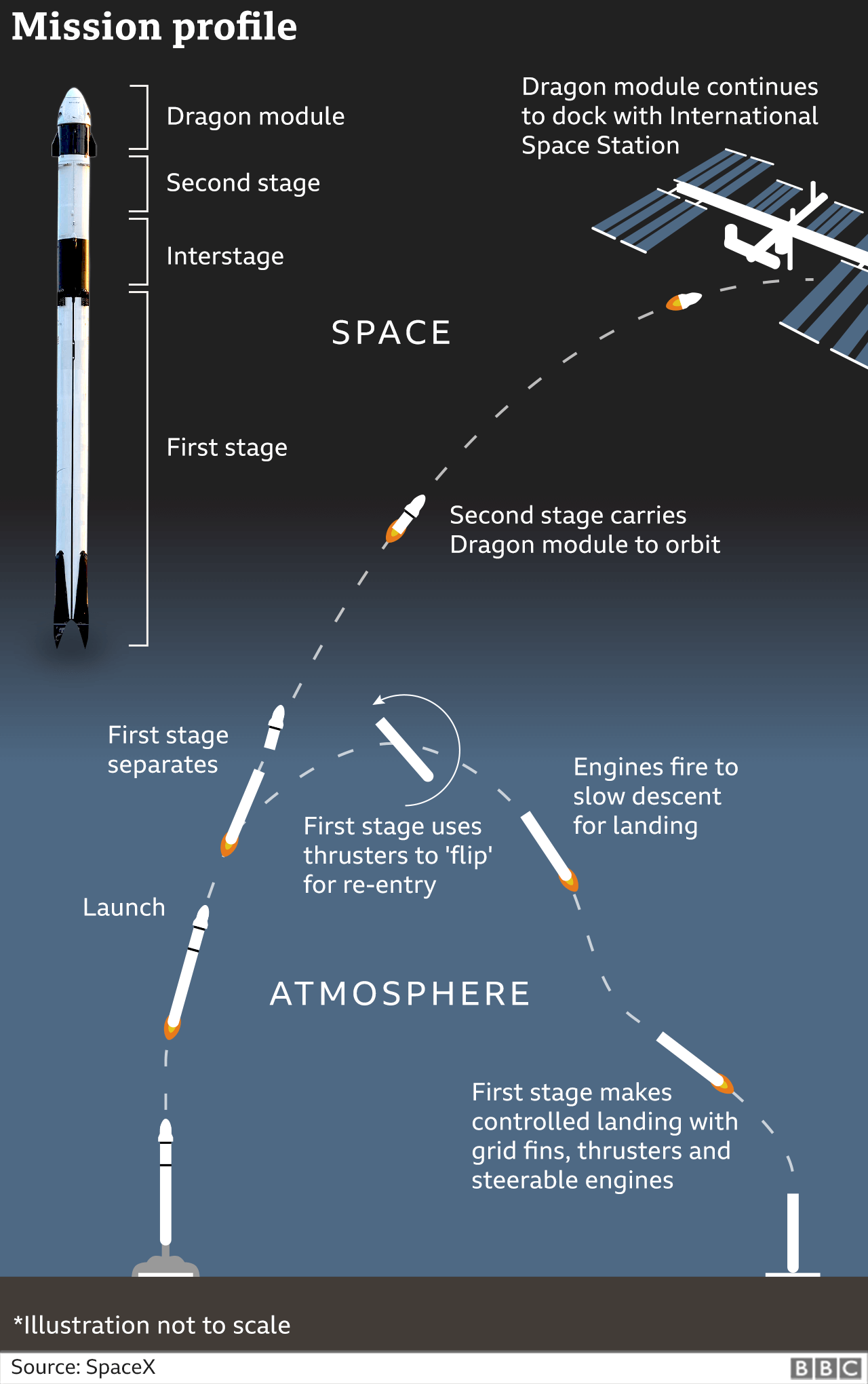 SpaceX's part in the mission will last until the astronauts are safely returned home at some point between the end of June and September.
If the Crew Dragon capsule performs as expected when they land in the Atlantic ocean, then Nasa will approve the company for more manned missions in the future.