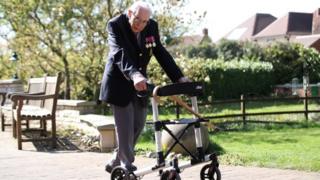 Reuters
Captain Tom Moore has completed his fundraising challenge and raised more than £17 million for the NHS.
His challenge of walking 100 laps around his 25-metre garden ended on Thursday morning and he wished his supporters and everyone in the country well through the lockdown.
Benjie Moore, the grandson of the 99-year-old former British soldier, has told Newsround the family can't believe how much money has been raised and says his grandfather is someone who inspires him every day.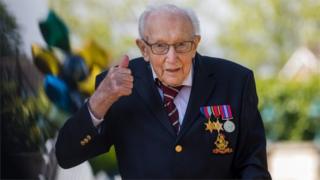 EPA
Captain Tom was eager to mark his 100th birthday by completing 100 laps of his garden by Thursday 16 April - and people from all over the world have been sponsoring him online.
Tom, who lives in Bedfordshire, has described the response to his challenge as "completely out of this world" and said the NHS "deserve every penny of it".
Why did Captain Tom start his challenge?
Captain Tom had originally wanted to raise £1,000 for NHS Charities Together to thank staff who had helped his recovery from cancer and a broken hip.
But hundreds of thousands of people from all over the world have contributed to his fund so far and the total keeps on rising!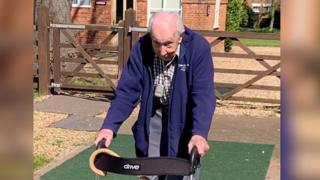 Hannah Ingram-Moore
He said: "When you think of who it is all for - all those brave and super doctors and nurses we have got - I think they deserve every penny, and I hope we get some more for them too."
Health Secretary Matt Hancock earlier thanked Mr Moore for his efforts and said he was "an inspiration to us all".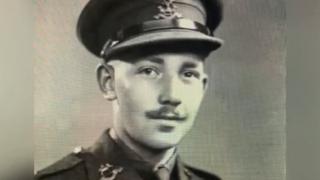 @captaintommoore
Tom, who was born in West Yorkshire, was a captain in the British Army during World War Two, serving in India and Burma.
He was supposed to celebrate his 100th birthday with a party of 100 people, but this had to be cancelled because of the Covid-19 outbreak.
Instead, he's spent his time slowly completing 100 laps around his 25-metre garden.
How have people reacted to his fundraising?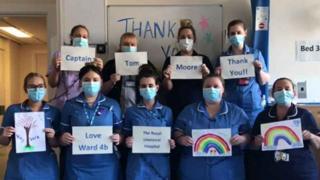 Lots of people have been pretty impressed by what Captain Tom has achieved, with some even suggesting he should be given a special honour.
A spokesperson from Downing Street has said that Prime Minister Boris Johnson will "certainly be looking at ways to recognise" Tom, who has "captured the heart of the nation with his heroic efforts" and raised an "incredible amount" of money.
He has also had loads of messages of support and congratulations from celebrities, politicians and NHS workers.
Nurses on Ward 4 at the Royal Liverpool University Hospital said: "Thank you so much for all your efforts and how much money you've raised for the NHS."
Top Gear presenter Paddy McGuinness described Tom as "absolutely amazing!!!" adding "the generosity of people from here and around the world matched with the courage of Capt Tom Moore".
Celebrity chef Jamie Oliver posted online saying "well done" while Strictly Come Dancing pro Anton Du Beke wrote "What a legend!!!"
Adventurer Bear Grylls said "worthy of all of our respect.... well done Sir."
Go Captain Tom!
What do you think of Captain Tom's achievement?
Do you have a message of congratulations? Let us know in the comments.