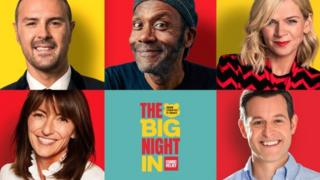 BBC Children in Need and Comic Relief are joining forces for the first time ever to create a 'one-night only' fundraising extravaganza TV show!
The Big Night In is a celebration of NHS healthcare workers who are helping to fight coronavirus, as well as raising money for the people affected by it.
The show will be on at 7pm on BBC One and iPlayer tonight, and will be presented by Matt Baker, Zoe Ball, Sir Lenny Henry, Paddy McGuinness and Davina McCall.
So what will be in it...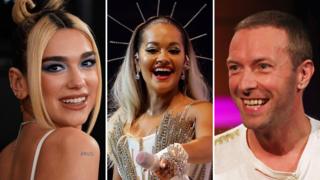 PA Media/Reuters
There will be music performances from artists like Dua Lipa, Rita Ora and Chris Martin (from their own homes) as part of a charity cover of The Foo Fighters hit song 'Times Like These',
There'll also be comedy sketches from comedians like Catherine Tate, and lots of prizes.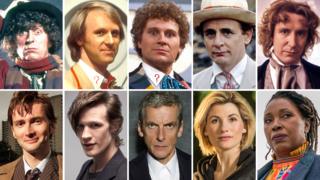 As well as that, there'll be not one, not two, but 10 Doctors from Doctor Who who will be giving their thanks to real life doctors and NHS workers!
Sports stars like Jamie Vardy, Lucy Bronze, James Bay, Jesse Lingard, Steph Houghton, Ben Stokes and Heather Knight have all been taking part in a sport challenge which will be shared on the show.
They had to spin around ten times then try to score a goal, bowl a wicket or try to serve an ace!
The Strictly Come Dancing stars have been busy choreographing a dance routine to Dua Lipa's song 'Physical' as part of the 'Keep Dancing Challenge'.
They hope that people at home will join in and send in their moves to share on the night!
As well as that Scouts UK are hoping to raise money with a super space-themed challenge.
They want people from all over the UK to come together and hike 240,000 miles - the same as the distance from the Earth to the Moon!
Astronaut Tim Peake and explorer Bear Grylls have been encouraging people at home to join in!
The money raised by the show will be split equally between Comic Relief and Children in Need. It will go towards supporting local charities and projects so that they can help the people who need it the most.
The show's organisers say the money will help people stay "safe from harm, mentally healthy and with access to food, warmth and shelter, as well as helping people stay connected, active and positive through these extraordinary times".
Simon Antrobus, Chief Executive of BBC Children in Need says: "the pandemic will have a significant impact on the most vulnerable people in our society. The Big Night In will offer the chance for everyone to (virtually) get together to celebrate the kindness and heroism of those making a real difference in their communities, and to support people across the UK who need our help now more than ever."
The UK government has said it will donate the same amount that the public donates, with a minimum of £20 million.