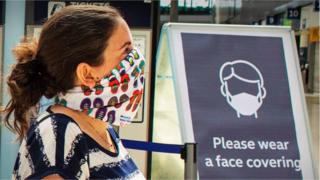 Alamy
People in England and Scotland now have to wear face coverings if they are travelling on public transport or going into shops.
In Wales and Northern Ireland, they must be worn on public transport.
People who don't do this could be fined.
It doesn't have to be a medical mask - they should be for health workers who are dealing with patients. Health experts say a fabric covering, like a scarf, can be used by the general public.
Advice from the World Health Organization (WHO), which is in charge of spreading health information around the globe, is that face coverings should be worn in busy areas if social distancing is not possible.
That's because the latest scientific studies show face coverings can help to reduce the spread of coronavirus.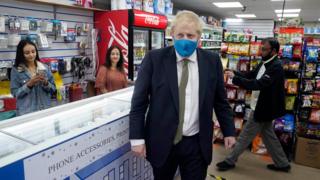 No 10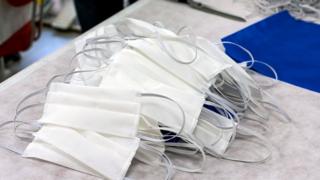 Getty Images
WHO advice has changed
The WHO had previously said there was no evidence to suggest masks could help stop coronavirus spreading.
It had claimed people wearing masks would take less care of other important measures to combat the virus, such as washing hands.
But it changed its advice in early June because there was newer evidence which showed covering your face can help provide a barrier to "infectious droplets" passing from person to person in busy areas.
The organisation now recommends that people wear non-medical face coverings on public transport and in work environments where space is limited, making it more difficult to social distance.
Those over 60 with underlying health conditions are also being encouraged to wear masks if they're unable to social distance.
What's the advice on masks in the UK?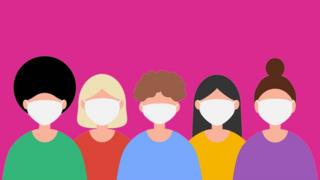 Getty Images
England: The rules changed in England on 15 June, which mean people who don't wear a mask on public transport - except for some groups including children under the age of 11 - can be refused travel or even fined.
On 24 July another rule change means that also applies when visiting shops or supermarkets.
And from 8 August, people will also have to wear masks in indoor places where they might meet other people - such as the cinema, or in museums.
Scotland: From Monday 22 June, face coverings became mandatory on all public transport in Scotland, The country also made it compulsory to wear face coverings in Scotland's shops on 1 July.
Young children (under the age of five) and people with certain health conditions are exempt from the rules.
Wales: People in Wales are advised to wear non-medical face coverings where social distancing is not possible, but people have had to wear them on public transport from 27 July.
Northern Ireland: Wearing face coverings on public transport became mandatory in Northern Ireland on 10 July.
There have been worries from some people in the NHS that advising everyone to wear a mask could mean that there wouldn't be enough medical masks for frontline health workers.
That's why leaders in the UK are saying "face coverings" and "non-medical masks".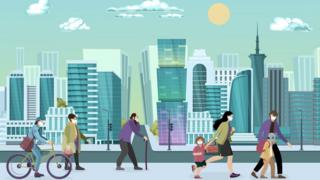 Getty Images
Officials are still stressing that social distancing and hand washing are vital and that wearing a mask should not replace either.