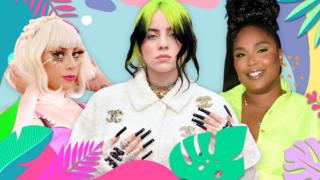 Getty Images
A virtual concert packed with stars from Lizzo and Taylor Swift, to Little Mix and Billie Eilish - entertained fans around the world over the weekend with a show celebrating health workers during the coronavirus pandemic.
There were no backing dancers, stage props or fireworks, but this festival of music had one of the most impressive line-ups ever seen.
Brought together by Lady Gaga, music legends like Elton John, Jennifer Lopez and Paul McCartney all got involved, the online concert was backed by the World Health Organisation (WHO) to try and raise money to help in the fight against the virus.
After the big names performed from home on the global version, more British stars were added to the line-up for a UK edition on BBC One.
So far more than £100 million has been raised for COVID-19 (coronavirus) relief.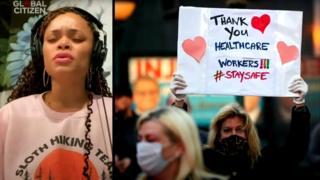 Global Citizen
The concert was opened by Lady Gaga, followed by US singer-songwriter Andra Day, who sang the ballad Rise Up from her apartment.
One Direction star Niall Horan also appeared singing Black and White with an acoustic guitar from his living room, and former band-mate Liam Payne appeared with the song Midnight.
"It's a pretty dark time for us all right now... and I feel we're all being brought a lot closer together by this solidarity," Liam said.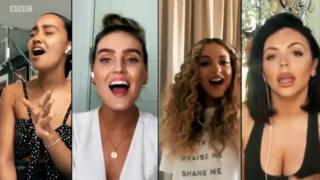 Little Mix came together virtually to sing their hit song Touch, from different locations.
Perrie said she hoped fans were "being positive during this weird, weird time".
She said: "I think we can all agree that the love that we feel for the NHS staff at this time and the key workers, doctors, nurses, carers, retail workers, postmen, waste collectors, the list goes on and on.
"You all deserve such a huge thank you and we appreciate you so, so, so much. Everybody please take care of yourselves, take care of your loved ones, stay home, save lives, protect the NHS."
Five more things that happened during the One World Together Concert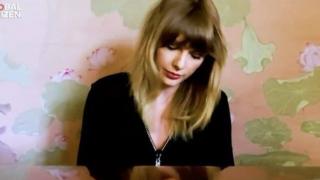 Global Citizen
1. Taylor Swift with an emotional tribute
Taylor Swift gave an emotional performance of her song Soon You'll Get Better, while playing the piano in her house. A song she said she might never perform live because of what it means to her.
Originally written about her mum having cancer, the lyrics mention hospital waiting rooms and prayers - something that will mean a lot to many people at the moment.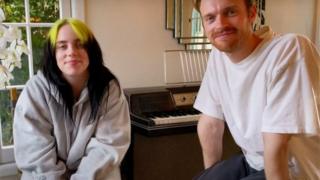 Global Citizen
2. A change of style for Billie Eilish
We don't mean fashion style! Billie was in trademark baggy clothes as she sat next to her brother Finneas on piano, but in a change of music style she performed her version of Bobby Hebb's song Sunny.
The lyrics have a meaning and a message that things will get better; "Sunny, yesterday my life was filled with rain."
At the end of the performance Eilish thanked medical workers everywhere. "Sending our love to you," she said. "I want to thank all of the healthcare workers who are risking their lives to save ours."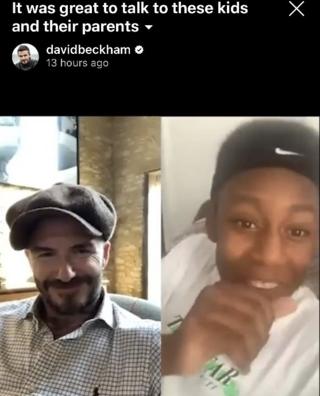 David Beckham / Instagram
Football superstar David Beckham held a video chat with young footballers.
He encouraged them to keep improving their skills at home while everyone is missing sport that has been cancelled.
4. We heard from those battling the virus
Dressed in uniform, hospital worker Aisha al Muntheri spoke from Paris to say she was proud to serve "on the front lines with my colleagues."
"It's part of our value in medicine to serve humanity," she said.
"The humanity is our common language."
5. We got to see celebrities and their (sometimes messy!) homes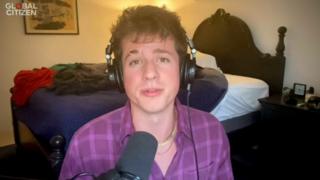 Global Citizen
You're performing to millions of people across the world and you couldn't tidy your bedroom, we're looking at you Charlie Puth!!
Puth is staying at his mum and dad's house, and performed See You Again, without making his bed first. What will his mum say!?
The virtual concert ended with Lady Gaga, John Legend, famous 90s star Celine Dion and classical singer Andrea Bocelli. They collaborated on a version of a song called The Prayer.
The lyrics of the song include: "When we lose our way, lead us to the place, guide us with your grace, to a place where we'll be safe."
If you missed it, BBC One has got some of the highlights from the concert on BBC iPlayer - where it is available to watch for 30 days.
The BBC show was hosted by Strictly Come Dancing's Claudia Winkleman along with Dermot O'Leary and Clara Amfo.
You can watch performances from British artists like Little Mix, Sir Tom Jones and Rag 'N' Bone Man.