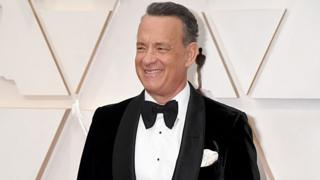 Getty Images
Toy Story actor Tom Hanks has sent a letter and a special typewriter as a gift to an eight-year-old Australian boy who said he was being bullied because of coronavirus.
The boy, whose name is Corona, first wrote to the Hollywood superstar when he heard the actor, who plays Woody, was ill with the virus.
Corona wrote: "I heard on the news you and your wife had caught the coronavirus. Are you OK?"
He said that he loved his name but was being called "coronavirus" at school, and that this made him "very sad and angry".
So Tom wrote back: "Dear Friend Corona. Your letter made my wife and I feel so wonderful!"
"Thank you for being such a good friend - friends make friends feel good when they are down."
"You are the only person I've ever known to have the name Corona - like the ring around the Sun, a crown."
He also asked Corona to use the typewriter to write back - perhaps the two will end up pen pals!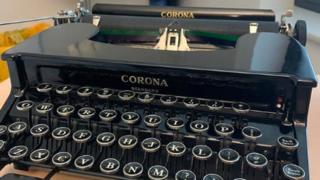 Tom Hanks/Instagram
Tom Hanks isn't the only celeb doing good at this tricky time - good deeds range from giving money, streaming content for free, to buying food and face masks for hospital staff.
Here are some more stars helping people out.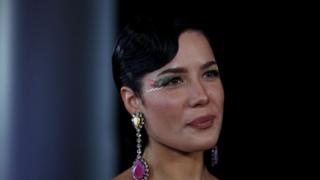 Getty Images
The singer donated 100,000 medically approved face masks to four different hospitals in Southern California.
She wrote on Instagram:"Every single day I am in awe of the medical workers on the frontlines.
"If you are on the frontlines, my heart is with you. And I will be continuing the fight to help you get the support and resources you need."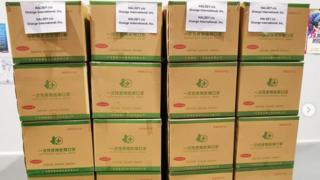 Halsey/Instagram
She also donated money to charity that supports vulnerable households in at-risk communities, and encouraged his followers to as well.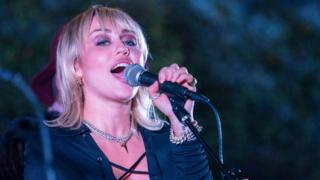 Getty Images
Miley and boyfriend Cody Simpson brought 120 tacos to a local hospital as a delicious thank you for the healthcare workers treating patients in the midst of the global coronavirus pandemic.
"So grateful for these true legends of our time dedicating their lives to battling this pandemic," Simpson wrote on Instagram following their taco delivery. "Show some love to yours in your community!"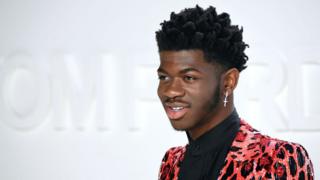 Getty Images
The "Old Town Road" rapper offered to help fans with their bills if lockdown meant they were unable to work.
Writing on social media he said: "hey guys drop ur cashapp. gonna send some of u some money to go get some food then stay inside."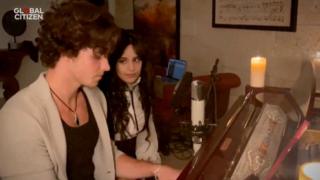 Getty Images
Shawn Mendes charity The Shawn Mendes Foundation donated $175,000 to The Hospital for Sick Children in Toronto to help the hospital buy extra emergency medical resources to fight coronavirus.
"For the next month, all donations to The Shawn Mendes Foundation will go towards SickKids Hospital & relief efforts around the world by the @WHO," read Mendes' Instagram post.
He also took part in One World: Together at Home, a special online concert celebrating health workers during the coronavirus pandemic, as well as doing streaming online performances for fans in lockdown.
Before the coronavirus Joe Wicks was already known for his big online exercise classes and live PE lessons streamed to lots of schools in the UK.
But in the first two days of lockdown alone, Wicks managed to get five million views on his channel.
He's come out on his social media channels to say he will donate all the money he makes from his videos to help the NHS in its efforts against tackling coronavirus.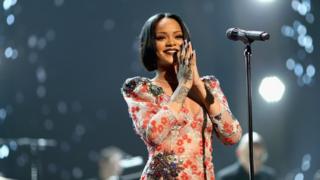 Getty Images
The US singer has donated £4.2 million through her foundation to help organisations in the US and around the world fight coronavirus.
Her money will go towards food banks in America, protective equipment for frontline workers and research to help develop a vaccine.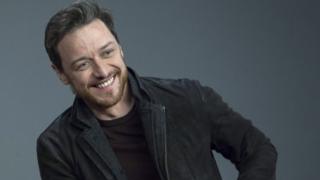 Getty Images
The X-Men actor has donated £275,000 to the Masks for NHS Heroes campaign to provide protective equipment for staff who need it.
Protective equipment has been a big issue for doctors who are treating people with coronavirus.
Some equipment in place has been criticised as not being up to scratch and there has been a big effort to try and get it sorted.
In a passionate video posted on his Instagram page, McAvoy said: "Caring for people with coronavirus without access to proper masks, goggles, gowns and gloves put themselves and others at risk".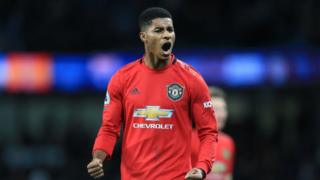 Getty Images
Manchester United and England striker Marcus Rashford has been working with charity FareShare to try and help kids in Manchester after schools were closed.
"I have done a lot of work with children and when I heard about the schools shutting down, I knew some kids would not be getting free meals at school.
"When I was at school, I was on free meals and my mum wouldn't get home until around six o'clock so my next meal would have been about eight o'clock", he told the BBC.
Rashford said the work they have been doing has helped raise £100,000 which will feed 400,000 children across Manchester.
They aren't the only ones...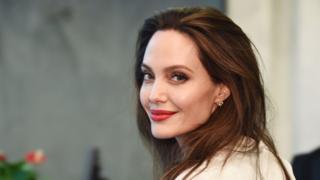 Getty Images
Lots of celebrities have followed Joe Wicks into becoming the UK's virtual teacher.
David Walliams has been releasing audio books for free
Tennis stars Roger Federer and Novak Djokovic have donated almost £1 million each towards helping the effort against coronavirus in their home countries, Switzerland and Serbia.
Maleficent herself Angelina Jolie has donated $1 million (around £805,500) to help fight child hunger in the USA while the epidemic is going on, as have Ryan Reynolds and Blake Lively.