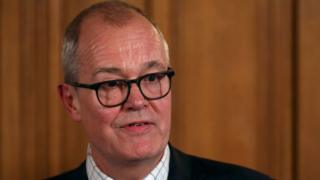 WPA Pool
People are following the advice to stay at home to keep pressure off the NHS, and there are early signs that it is working, according to the UK's chief scientific adviser.
Sir Patrick Vallance told a news conference that social distancing is "making a difference".
Spread of coronavirus between people in the community is thought to be slowing down, which could mean fewer infections overall.
Records suggest that the number of people needing to go into hospital to be looked after isn't rising as fast as it has been.
It has been just over a week since schools were closed and people were asked by Prime Minster Boris Johnson to stay at home for all but the most essential reasons.
Since then most people have been following the rules and advice, and are staying in their houses except when they need to go out to buy food, do some exercise or for a medical need.
And when they do go out, most people are keeping two metres apart to make it much more difficult for the virus to spread.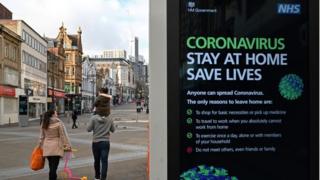 Getty Images
Sir Patrick said he wasn't ready to say how long social distancing measures would need to stay in place.
He said instead the focus needed to be on making sure that the number of people needing hospital care was at a level that the NHS could handle.
This optimistic view follows that of one the UK's top virus scientists, Professor Neil Ferguson, who also said it looks like the virus might already be "slowing down a little bit".
However Professor Ferguson did warn that while there were early signs, there was not enough information yet to make firm statements.