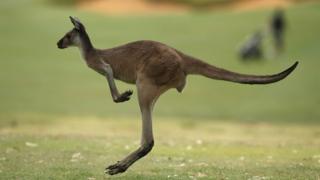 Getty Images
In many countries people have been told to stay at home to try to stop the spread of coronavirus, which means far fewer people are out and about.
And when humans are away, the animals come out to play!
Lots of creatures, from deer and goats to monkeys and even a puma, have been making an appearance in places you wouldn't normally expect to see them.
Some have come to big towns and cities in search of food, while others look like they're making the most of their freedom with humans out of the picture.
A record number of baby leatherback sea turtles have hatched in Thailand in the country's southern Phang Nga province, which is famous for its beaches.
The director of the Phuket Marine Biological Center, said that since November they have found 11 nests, the highest number in the past 20 years!
One of the reasons researchers think the hatching has been successful could be because coronavirus has kept away many tourists, meaning the turtles have the beaches to themselves.
This cheeky kangaroo was caught on camera going for a hop through the middle of Adelaide in Australia.
The city is currently on lockdown so the streets were much quieter, meaning the kangaroo could roam around freely.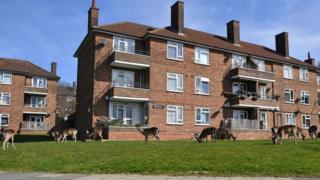 Getty Images
A herd of fallow deer were seen grazing on the lawns in front of a housing estate in Harold Hill in east London.
It's thought they came from the nearby Dagnam Park, and spent the morning lazing on the grass.
It is very unusual to see deer in this area as they are normally very timid creatures, but with the streets deserted, this one had full reign!
Meanwhile in Japan, the local deer have also been out and about exploring. They normally live in Nara Park, a popular tourist attraction, where more than a thousand deer roam freely throughout the year.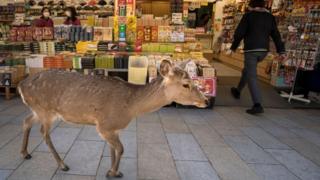 Getty Images
But now that tourists aren't around to feed them they've been wandering into the city in search of food.
Photos and videos posted on social media have shown herds of 10 to 15 deer wandering through city streets and subway stations, dodging traffic and eating people's potted plants.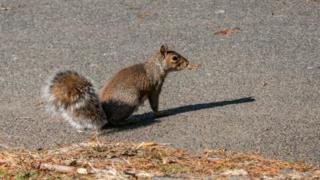 NurPhoto
We're used to seeing a few squirrels climbing trees and running around in the park, but in one park in California they've certainly been making the most of the peace and quiet - to do some sunbathing.
In a video posted on social media hundreds of squirrels can be seen chilling out on the grass catching some rays.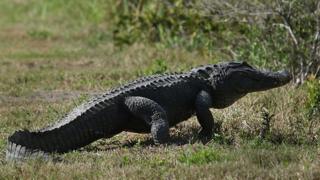 Getty Images
An alligator was seen enjoying having a beach all to himself in South Carolina in the US.
He also wandered across the road to the local shopping centre - clearly no one told him all the shops were closed because of the coronavirus.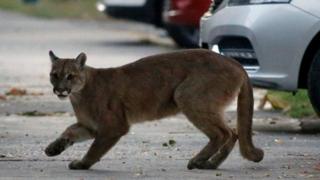 Getty Images
You'd get quite a shock if you saw something like this outside your front door, but that's exactly what happened to people in the city of Santiago in Chile, South America.
Local experts think it must have come down from the nearby mountains in search for food.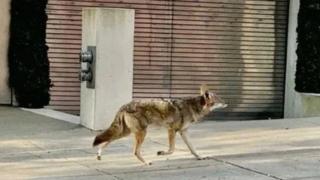 Twitter/@manishkumar457
In the US city of San Francisco coyotes have been roaming the empty streets, with many people having a surprise coyote encounter when they're popping out to get groceries.
It even looks like the coyotes having been enjoying some of the city's famous tourist sites. including the Golden Gate Bridge.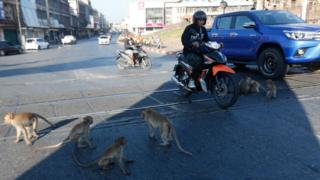 Getty Images
It's not unusual to see monkeys on the street in Thailand, but there have been a lot more than normal about recently as they've been coming in search of food.
Tourists who normally keep them well-fed are staying away due to the coronavirus outbreak, which led to hundreds of monkeys running around the roads, fighting over scraps.
So many monkey were seen on the streets of Lopburi that people were making comparisons with scenes from Planet of the Apes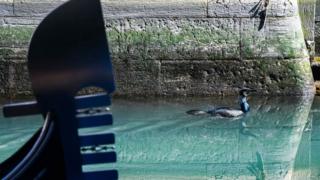 Getty Images
People who live in the city of Venice in Italy have reported seeing fish and ducks in the canals after coronavirus lockdown left the streets and famous canals empty.
There's also been a visible improvement in the quality of the water, which now looks crystal clear.
It's thought this is partly due to the big reduction in boats, which kick sediment to the surface, making the water darker and more murky.
A herd of goats has taken over a deserted town centre of Llandudno eating hedges and flowers from gardens.
Usually, the wild herd of about 122 Kashmiri goats only venture from their home in the Great Orme during bad weather.
But the town councillor said she thinks the goats were curious and came looking to see where everyone had gone.
Italians have also seen sheep and horses wandering around without a shepherd or rider in sight.
Un-baa-lievable!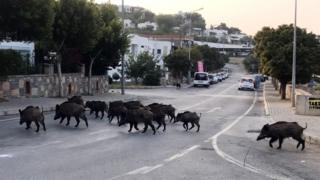 Getty Images
In some countries it's not unusual to see boars roaming around in public.
The Spanish city of Barcelona is another place where they've been spotted over the past few years, but now that there's even fewer people around, the boars are making the most of their freedom.
People on lockdown have been posting on social media with stories of seeing the wild animals bolding strolling through quiet, deserted streets.