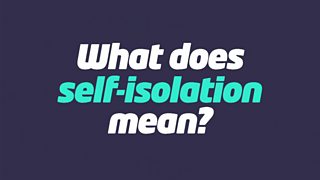 Coronavirus: All you need to know about quarantine and self-isolation
THE OFFICIAL ADVICE ON CORONAVIRUS HAS BEEN UPDATED SINCE THIS VIDEO WAS PRODUCED - FOR THE LATEST INFORMATION, CLICK HERE.
The government's plan for tackling the spread of the coronavirus says that for most people who have it, self-isolation at home will be one of the main ways to manage it.
The virus, which affects humans, began in China and has now spread across the world with the majority of new cases new being found outside China.
Anyone with the virus has been told to "self-isolate".
Virus expert, Dr Jake Dunning, from Public Health England, has everything you need to know about it.