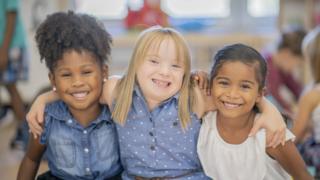 Getty-images
The company which makes Barbie says it has plans to make its collection of dolls more diverse.
Mattel is going to release a doll that looks as if it has the skin condition vitiligo, and another won't have any hair.
It's because it says it wants to "represent global diversity and inclusivity".
Barbie's makers are not the only toy firm trying to improve the way toys reflect society, other companies making changes include Playmobil, Lego and Lottie.
For example there is a Lottie doll which has a cochlear implant and there are both Playmobil and Lego characters which are wheelchair users.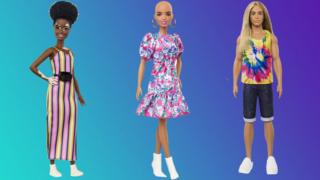 Mattel
It's not the first time that Barbie has been given a makeover. Previously, the company launched 'gender inclusive' dolls as well as designs with different coloured skin and dolls with disabilities.
A spokesperson said: "If a girl is experiencing hair loss for any reason, she can see herself reflected in the line.
"A prototype was debuted on Barbie's Instagram channel last year, becoming the channel's most liked post ever."
The company also claims that in the UK last year, the two bestselling Fashionista dolls were ones with wheelchairs. Globally, it says its bestseller from the same range, was a "curvy black doll with afro hair".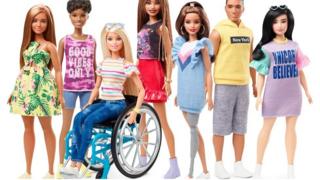 Mattel
The company are also making sure boys aren't left out - their Ken doll has a new look too.
He has long rooted hair which is different to the traditional moulded look.
The company claims over half of all the dolls it sold last year were diverse and that of the top 10 best sellers, seven were diverse, including the doll that uses a wheelchair.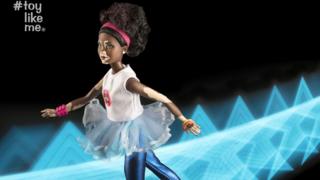 Toy Like Me
But some people still don't think enough is being done to make sure toys better reflect everyone in society.
Rebecca Atkinson is from the group Toy Like Me which campaigns by making over existing toys to show companies how they could look.
One example of the dolls they've made has vitiligo, which she thinks influenced the most recent Barbie.
Rebecca said: "It's so important for children with disability and difference to see themselves positively represented in toys as this can really help grow self esteem.
"It's also really important non-disabled children are exposed to disability through toys as it allows them to explore and ask questions about different bodies and conditions. When they meet a child in real life with that condition, research has shown they are likely to be more open minded."
Do you think that firms could do more to make sure toys are diverse and reflect everyone in society?
What kind of dolls would you like to see?
Let us know your opinion by commenting below.