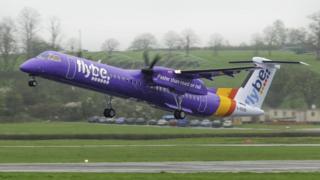 Flybe
The government has agreed a rescue plan for airline Flybe.
It's after Boris Johnson said his government was working "very hard to do what we can" to save airline Flybe from closing down.
The airline, which includes more than half of UK domestic flights outside London, has had financial difficulties.
Now, ministers have agreed to work with Flybe on a repayment plan for some of the company's tax debt. They have also said they want to review the taxes that UK airlines have to pay, including the £26 air passenger duty on all domestic UK return fights, which has added to the airline's losses.
Meanwhile, the firm's owners have agreed to also put extra money into the airline.
But some environmental groups say that to fight climate change flights should not be made cheaper and some other airlines say it isn't fair that Flybe should be getting this help when they are struggling too.
The airline carries about eight million passengers a year between airports including Birmingham, Manchester, Southampton, Belfast City, Cardiff and Aberdeen, and parts of Europe.
There are around 2,000 people that work for the airline so those jobs could be at risk if it had to close.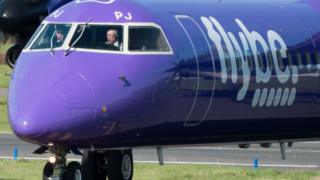 Getty Images
What are the environmental concerns?
Many people have said that cutting making domestic flights cheaper would be bad for the environment. Planes give off a range of greenhouse gases, mainly carbon dioxide, which contribute to climate change.
There are different reasons they do this, but it's mainly through the carbon-rich fuel used to power their engines.
At the moment the UK's aviation industry makes up around seven per cent of the UK's total greenhouse gas emissions.
And it's thought it that by 2050 it could make up a quarter, as other industries find more environmentally friendly ways of working.
Jenny Bates, a campaigner for the Friends of the Earth charity, told the BBC any cut to air passenger duty would be "reckless".
Ms Bates said: "These short UK trips are exactly the ones we need to avoid in the drive to cut aviation climate emissions needed to prevent climate breakdown.
"Instead the government could invest more in our rail system, helping make such trips more affordable."