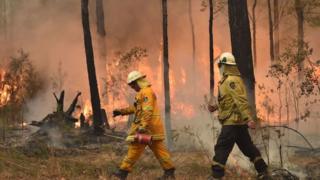 Getty Images
The Prime Minister of Australia, Scott Morrison, has announced that 3,000 troops will be sent out to tackle the bushfires across the country.
The country's Defence Minister Linda Reynolds said this is the first time this had happened in Australia's history.
The news comes just days after the Australian state of New South Wales declared a week-long state of emergency.
Bushfires have been raging since September 2019 across Australia, which has led to thousands of people having to leave their homes.
A heatwave there saw temperatures go higher than 40C (104F) in every state.
The skies have turned red because of the fires and lots of people are wearing masks to make sure they can breathe.
Scorching temperatures, strong winds, and thunderstorms have created dangerous conditions.
More than 1,700 firefighters worked on Christmas Day, and around 1,400 on Boxing Day, to fight the fires in Australia.
By the end of Saturday, 73 new fires had started and 53 were still burning. Of these, 13 were classed as emergency fires.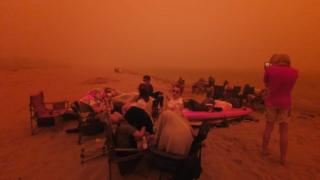 ALASTAIR PRIOR
More than 1,200 homes across the states of New South Wales and Victoria have been destroyed by the fires.
Thousands of people have had to be evacuated from areas which have been affected.
Dozens of people are still missing and there have now been 23 deaths linked to the fire crisis.
A study by the University of Sydney estimates that 480 million animals have been affected.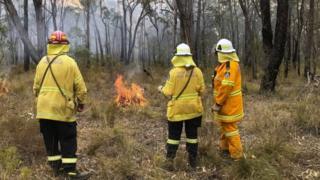 Reuters
What's it like to live in a country that's so hot?
Martha, who's from Queensland, Australia, has described what it's like for her when there is very hot weather.
Bushfires are common throughout Australia. They're made more likely when the weather is very hot and dry. The higher the temperature the more likely it is that a fire will start or continue to burn.
They can start from human activity - either accidently or deliberately - or can start by natural causes like lightning. Bushfires often pass in just a few minutes but can smoulder for days.
High winds are a real threat as they can fan the flames and spread the blaze.