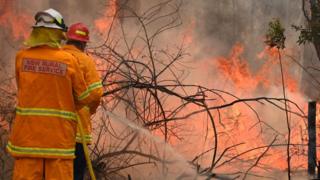 Getty Images
Two Australian states have called a state of emergency and residents have been asked to leave their homes as bushfires continue to burn in Australia.
About 150 fires are still burning in New South Wales (NSW) and Queensland and officials have said that 50 houses were destroyed or damaged in NSW.
Thousands of people have had to leave their homes in New South Wales and Queensland.
The country's most populous city, Sydney, was marked as at "catastrophic fire danger", when temperatures as high as 37 degrees Celsius (98.6 degrees Fahrenheit) mixed with powerful winds.
It is the first time Sydney has been rated at that level since new fire danger ratings were bought in in 2009.
Schools, bridges and power lines have also been destroyed as a result of the fires and thousands of schools have had to close.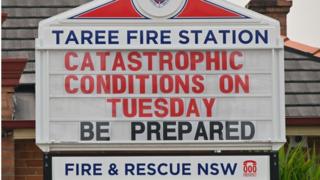 Getty Images
Thousands of people in both states spent the night in evacuation centres while officials assessed whether it was safe for them to return home.
Winds and high temperatures have made the fires worse, many of which are in areas affected by drought.
The risks of Australia's fire season are growing longer and more intense due to climate change, according to scientists.