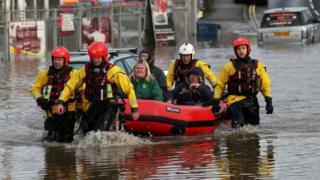 Reuters
The emergency services are asking people in parts of Yorkshire to leave their homes because of flooding.
Derbyshire and Yorkshire have been worst affected by the extreme weather after a month's worth of rain fell in less than 24 hours.
Seven severe warnings remain in place along the River Don which flows through Sheffield, Rotherham and Doncaster.
The river reached its highest recorded level at just over 6.3m higher than it was in 2007 when floods hit.
Dozens of schools closed in Sheffield after heavy rainfall caused flooding on the streets and some people had to sleep on chairs and benches after being left stranded in a shopping centre in Sheffield overnight.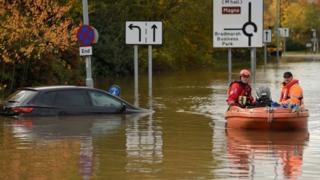 Getty Images
Trains services remain cancelled in some parts of the East Midland.
Has your school been closed or have you been affected by the floods?
Get in touch using the comments below.