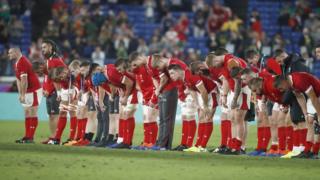 Reuters
Prince William has taken to social media to say how proud everybody is of the Welsh rugby team, following their defeat to South Africa in the semi-final of the World Cup.
"A Heroic performance @WelshRugbyUnion," he said on the Duke and Duchess of Cambridge's Twitter account.
"Unfortunately this time it wasn't meant to be. @AlunWynJones - brilliant leadership as ever. You can all hold your heads high from an incredible tournament, we're all so proud of you. W."
South Africa's victory means they will face England in the Rugby World Cup final next week.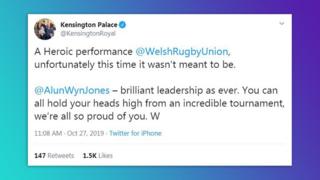 Twitter/@KensingtonRoyal
Wales had hoped to reach their very first final in this tournament, but sadly it wasn't to be.
After the game, Wales captain captain Alun Wyn Jones commented: "Today we fell short, it wasn't our day and I am still proud to pull this jersey on and represent all the Welsh in the stadium."
Wales coach Warren Gatland: "A tough physical match, congratulations to South Africa they defended well but I am proud of the boys. It was a very tough encounter, and well done to South Africa.
"I am proud of them [...] but South Africa deserved to win tonight."
South Africa were first to get points on the board after a kicking a penalty in the 15th minute. But it wasn't long before Wales drew back alongside them at 3-3, following a penalty by Dan Biggar.
A further six points points were added to the scoreboard by South African fly-half Handre Pollard in the 20th and 35th minute, but Wales managed to claw back three of their own minutes before the clock ran out on the first half.
The score at half-time was 9-6 to the Springboks, with no tries being scored in the first 40 minutes.
Not long into the second half, Dan Biggar slotted another penalty between the posts and brought Wales level with their opponents at 9-9.
South Africa were first to put down a try in the 55th minute, putting them 16-9 ahead - but yet again, Wales responded with a try of their own ten minutes later.
With four minutes to play, South Africa's Handre Pollard put another penalty through the posts, sending his team into the lead and piling the pressure on Wales - now three points behind - for the dying moments of the game.
But Wales were unable to draw themselves level in time and the game finished 19-16 to the Springboks.
That is so, so disappointing. We have come here with our best chance ever of getting through to the World Cup final and winning it, but we made field errors and our chance has gone. I thought it was one we could win and those players will be devastated after that.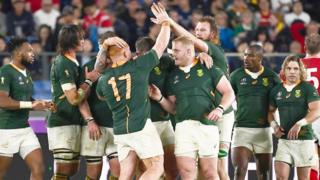 AFP/Getty Images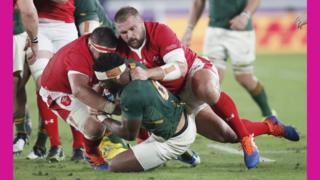 Reuters
It was Wales' third semi-final and the second with their head coach Warren Gatland, who is stepping down at the end of the tournament.
Ahead of the match, some were saying it was the team's best chance that they'd ever had to reach a World Cup final.
"You have got a chance to do something special in your life and these chances come along very rarely and you have got to grab them with both hands," said Warren. "When you want something bad enough and you really, really want it then it can happen."
I have got two games to go as the Wales coach and I want to enjoy these last two games, and there are probably nine or 10 players who won't be involved in another World Cup as well so they have got to relish that opportunity and be excited about this.
Matt Dawson, former England player and World Cup winner, said: "That is the dream, to get two home countries into the final would be sensational for UK sport."
But unfortunately, it wasn't to be and it will be an England-South Africa final.
Did you watch the match? What did you think of it? Did the right team win? Let us know in the comments below.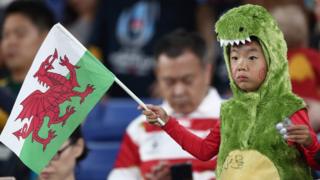 AFP/Getty Images