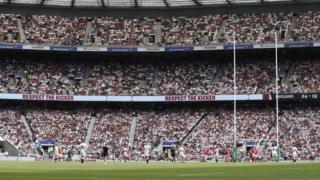 Getty Images
The Rugby Football Union (RFU) is looking into the singing of Swing Low, Sweet Chariot by England fans amid suggestions many supporters are unaware of its origins as a song about American slavery.
It is often heard at games, but the recent protests after the death of George Floyd, which included the toppling of a statue of a slave trader in Bristol, have led many British organisations to examine their historic links to slavery.
Some people have said that rugby fans just sing the song with no understanding of its meaning or context, and that isn't right. The RFU has said more needs to be done to "grow awareness."
But Prime Minister Boris Johnson has said the song shouldn't be dropped. He thinks instead that it should be used as an opportunity to teach people about its meaning and history.
So where does the song come from? Why do England fans sing it? And what does it mean?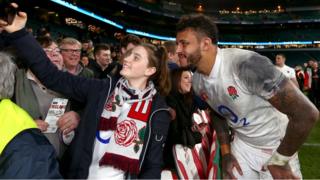 Getty Images
Where did the song come from?
It's believed the song was written in the mid-19th century by Wallace Willis, who was a black slave.
The slave trade refers to a period in history when it was completely legal to buy and sell black people as slaves.
The slaves were bought and sold across routes around the Atlantic Ocean, usually to work on plantations growing and picking cotton or working in rich white people's houses.
It's believed the song is about the hardships of daily life as a slave in the United States.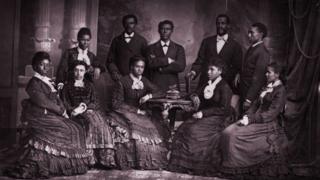 Getty Images
The earliest known recording of the song was in 1909 by students from Fisk University, in America.
They were known as the Fisk Jubilee Singers and made the song popular during a tour of America and Europe.
The song went under the radar for a while, until an American singer and activist called Joan Baez sang it in 1969 at popular US music festival, Woodstock.
Why did England fans start singing it?
It's not known exactly when or why fans started singing it.
Some think, that it goes back to 1988 when it's believed a group of school boys began singing the song at Twickenham rugby stadium, one of the most famous rugby stadiums in the world.
The boys had their own tradition that every time a try was scored, they sang the song.
More and more people joined in as the game went on, and it has carried on ever since.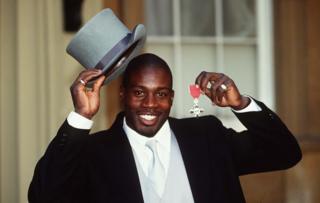 Photoshot
But archive footage has now been found of it being sung at Twickenham a year earlier - in 1987 when a player called Martin Offiah played.
The speedy winger had the nickname "Chariots" Offiah. It was a play on words from the film Chariots of Fire, which is about two athletes racing in the 1924 Olympics.
Offiah said: "People used to ask if it was a reference to me and I said, 'I don't think so'...When the RFU told me they had found this footage I thought, 'Wow, so I have got some link with this song'."
Is it controversial?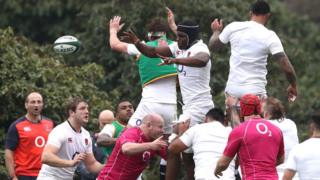 Getty Images
Some people think that because of the origin the song, it's inappropriate for it to be sung at rugby games, but others think it's ok.
Last week World Cup winner Maggie Alphonsi - the only black person on the RFU council - said that the death of George Floyd in the United States had led to "powerful conversations".
RFU chief executive Bill Sweeney has said: "We need to do more to achieve diversity across all areas of the game, including administration."
Former England player Brian Moore, who said he could remember Swing Low being sung in junior rugby clubs during the 1970s, insisted he would have no qualms about it being banned.
"I have always hated it," he said. "It is not appropriate. It has slave connotations and if the RFU makes that ruling I would be pleased."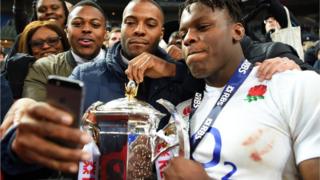 Getty Images
Martin Offiah has welcomed the RFU's decision to review the use of the song Swing Low, Sweet Chariot - but does not want it banned.
He said: "That history is probably not that well known by a lot of people in the UK. I champion the RFU reviewing it, I wouldn't support the banning of such a song. When you do try to ban things like that it just makes the song more divisive.
"If this review leads to the RFU putting a positive spin on this song, engaging with ethnic communities, looking at the rooms where decisions are made in the RFU and addressing those issues, that's what we actually want."
England forward Maro Itoje, one of several black and mixed race players in the current squad, recently said the background of the song was "complicated" but England prop Mako Vunipola has defended rugby fans singing it.
He said: "I've always taken it as just the English song, really. I've never thought of it as any more or any less than that."