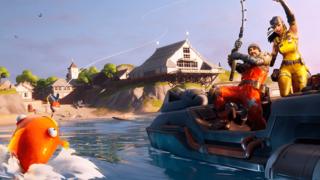 Epic Games
Fortnite's season ending black hole was the "most viewed gaming event ever" across Twitch, YouTube, and Twitter, according to Epic Games.
In the game a giant meteor smashed into the map causing a black hole to form.
The black hole then sucked in the map, bus and even players. Quite simply, it destroyed everything.
The game was offline for two days and millions were left watching the broadcast of the black hole on social media.
Epic Games has told The Verge that the black hole event, officially called "The End," amassed record-breaking viewership on Twitter and Twitch. It was also one of the most viewed YouTube gaming events ever.
Epic says that more than 1.7 million Twitch viewers tuned in to either the game's official Fortnite stream, or other creators, during the event's peak.
On Twitter, the black hole event was the "most viewed gaming event on Twitter, with 50.7 million minutes watched and 42.8 million views."
On YouTube, Fortnite black hole viewership hit a high of 4.3 million viewers watching the event across all channels at the same time.
And the main thing to remember is that the live stream was just of an animated black hole doing pretty much nothing!