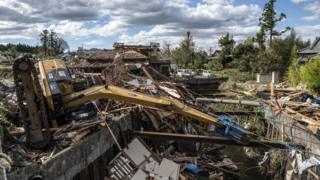 Getty Images
People living in Japan are dealing with the aftermath of Typhoon Hagibis.
Authorities say they have sent out 110,000 rescue workers and military troops to help those affected by the floods.
"The government will do its utmost," Prime Minister Shinzo Abe said.
At least 37 people are believed to have died and many others were left injured.
The storm made landfall on Saturday evening in the south-west of Tokyo and brought wind speeds of 140mph - twice as fast as cars can go on the motorway in the UK.
Almost half a million homes were left without any power on Sunday, but now this is down to 92,000 homes.
Hagibis has weakened and moved away from the land heading north.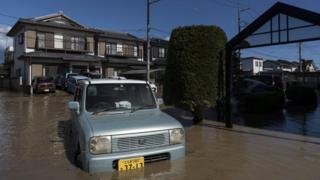 Getty Images
More than one metre of rain fell in the town of Hakone, the highest ever recorded in Japan in 48 hours.
Rivers breached their banks in at least 14 different places, leading to flooding in neighbourhoods where homes are.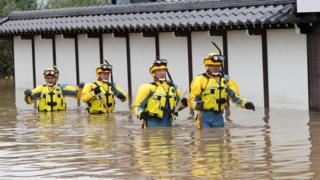 Reuters
Three Rugby World Cup matches were cancelled as a result of the storm. The cancellations were the first in the tournament's 32-year history.
Japan beat Scotland 28-21 to reach the quarter-finals for the first time.