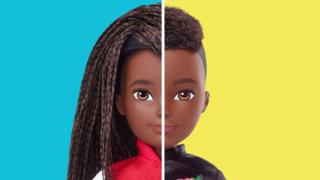 Mattel
One of the world's biggest toy companies has launched a 'gender inclusive' doll.
Mattel say the Creatable World doll has been designed to be styled with short or long hair, or in a skirt, trousers, or both.
They say the dolls represent anyone outside of the traditional genders of male and female, allowing children to create their own characters that they identify with.
Kim Culmone, of Mattel Fashion Doll Design said: "Through research, we heard that kids don't want their toys dictated by gender norms. Toys are a reflection of culture and as the world continues to celebrate the positive impact of inclusivity, we felt it was time to create a doll line free of labels."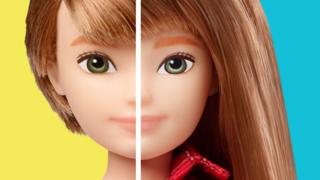 Mattel
Toy companies and shops have been criticised for making toys that are gender specific or reinforce gender stereotypes.
Jeff Ingold, Head of Media Engagement at Stonewall, a leading LGBT charity, said "Taking action to create toys that help young people challenge gender stereotypes is a welcome step towards building a more inclusive society.
We know how damaging gender stereotypes can be to the way young people, particularly LGBT young people, see themselves and this can prevent them from reaching their full potential as they grow up."
Mattel say the new dolls have been designed with a team of experts, parents and kids.
What do you think?
Do you think you more needs to be done to make toys fair and inclusive? What do you think toy manufacturers should do to make their toys suitable for everyone?
Let us know your views in the comments below.