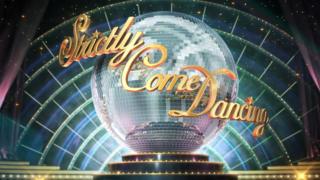 There's not long to go until we see the celebrities' first dance on Strictly Come Dancing 2019, and we're all getting pretty excited!
We've had the launch show and all the celebrities and dancers have been partnered up.
Now it's time for plenty of practice and for rehearsals and believe it or not, they've even found time for some fun!
The latest game the gang are playing is trying to come up with a team name for their pairings.
Check out the ones in this article and if you've got any ideas for other couples, or think you can do better than these - let us know in the comments below!
Team Babushka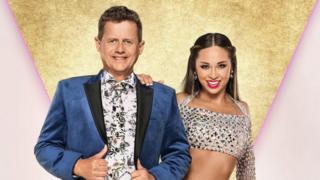 PA Media
First up BBC Breakfast sports presenter Mike Bushell is partnered with Russian dancer Katya Jones.
Their name is a combo of Bush from Mike's name and the Russian word babuska - meaning grandmother or elderly lady!
Yikes! No offence Katya... we hope.
Team Red Devils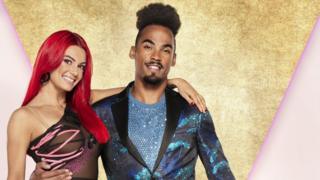 PA Media
Next up is Australian dancer Dianne Buswell. She's dancing with CBBC Playlist regular, Dev.
This picture from Dianne's Instagram might explain why they've chosen their name...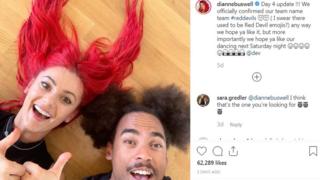 Dianne Buswell
The combination of the shape and colour of their hair, we think?!
Pocket Racket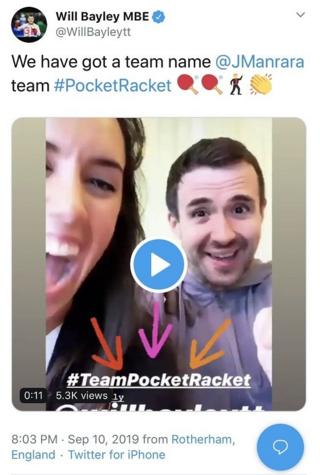 @WillBayleyTT/Twitter
Janette Manrara is dancing with para-table tennis champ, Will Bayley.
As Strictly fans will know, there isn't anyone on the show with more energy than Janette - no wonder she's called the pocket rocket!
But to give it a 2019 twist, they've tied in Will's table tennis, erm, racket and come up with the team name pocket racket.
We always thought you played table tennis with a bat, but we'll take Will's word for it!
Team Red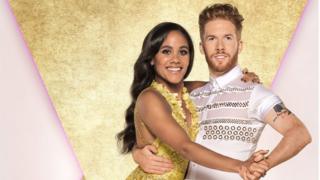 PA Media
Alex Scott and Neil Jones have gone for the name Team Red.
They haven't said why but on their social media pages, they're hashtagging like mad!
Well, we think it's a pretty fitting name as Alex is a former Arsenal player, whose team colour is red, and Neil's got red hair!
Team Dowzer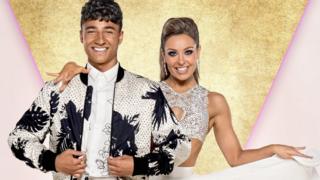 PA Media
CBBC's Karim recently told us which dance moves he's most scared of.
But his partner Amy's making things better! On Instagram he wrote: "Been having the best time training with my AMAZING dance partner Amy".
They've combined their last names, Zeroual and Dowden, to come up with the team name Dowzer!
Team Dakova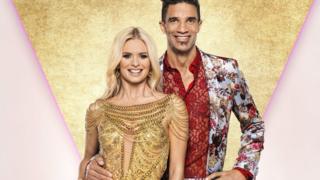 PA Media
Former England goalkeeper David James has been paired with female pro Nadiya Bychkova.
They seem to done the classic last name combination too to come up with Team Dakova.
Catjo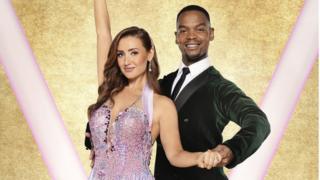 PA Media
Instead of mixing up their last names, actress Catherine Tyldesley and her partner Johannes Radebe have gone for a first name combo, Catjo!
It's Johannes' first year of competitive Strictly after joining the show as a backing dancer last year.
Visagio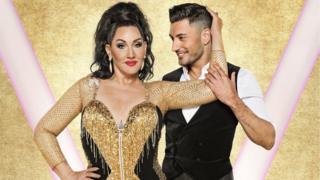 PA Media
Ru Paul's Drag Race judge Michelle Visage has been paired with Italian dancer Giovanni Pernice.
Michelle's from New York and has Italian heritage - so she says she'll get on well with Giovanni.
Michelle's last name and Giovanni's first name go together quite nicely - good luck Visagio!
Team Emmton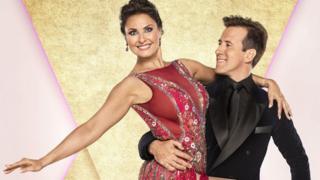 PA Media
Emma Barton plays Eastenders' Honey Mitchell and she's dancing with Strictly legend Anton Du Beke.
Emma says she's delighted to partnered up with the so-called King of Ballroom - let's see how Team Emmton get on!
A few of the Strictly pairs haven't come up with a name yet, so let us know your suggestions! You can see the rest of the pairings here.
Do you think these names will catch on? Let us know in the comments below!