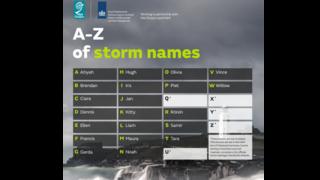 Met Office
The names that will be given to storms in 2019-20 have been released by the Met Office and Met Éireann.
Names were first introduced by the Met Office in 2015 for storms that hit the UK and the Republic of Ireland as a way of raising awareness of really bad weather.
The names announced for the coming year are:
Atiyah, Brendan, Ciara, Dennis

Ellen, Francis, Gerda, Hugh

Iris, Jan, Kitty, Liam

Maura, Noah, Olivia, Piet

Róisín, Samir, Tara, Vince, Willow
As you can see from the picture, the letters Q, U, X, Y and Z don't have names, which is to make sure the UK and Ireland are in line with the US National Hurricane Centre.
The names were chosen after the Met Office asked the public this summer to send in ideas. Previous names for last year included Idris, Callum and Peggy.
Once a storm is named, it keeps that name.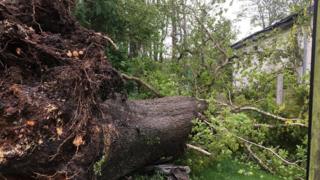 While it may seem like a way of making storms seem like people, that's not really the reason the weather is named like this.
It is done to emphasise when there is a risk of medium to high impact from wind, rain or snow.
It's all to do with weather warnings - for example when levels reach 'amber' in the UK and 'status orange' in the Republic of Ireland.
According to research from the Met Office, more than three in four people found naming storms useful for them more aware of when the weather could be problematic or even dangerous.
The last big storm in the UK was storm Hannah in April 2019, which left tens of thousands of people without power after high winds.
What do you make of the list? Let us know in the comments below.