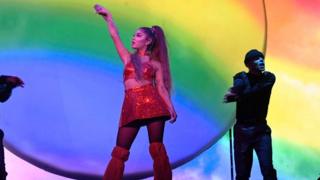 Getty Images
Ariana Grande has performed in Manchester for the first time in over two years.
She played a 35 minute set - which featured nine songs - at the city's Pride celebrations on Sunday 25 August.
The popstar hadn't been back to the city since her One Love benefit concert in June 2017 following an attack on Manchester Arena.
Twenty-two people died and more than 50 people were injured when the Arena was attacked at the end of an Ariana Grande concert on 22 May 2017.
Grande returned to Manchester two weeks later to perform in a benefit concert for the victims of the attacks. She brought some of the world's biggest pop-stars with her.
The US singer began her 35-minute, nine-song set with No Tears Left To Cry, the first song she released after the attacks.
"Manchester holds a very special place in my heart," the superstar said.
She told the crowd: "I'm so happy to be with you, so thank you for having me. Sorry, I'm so nervous. I had so much more to say but I'm really very overwhelmed. So thank you."
Ariana finished her performance off with an emotional rendition of One Last Time.
Ariana announced she would be headlining Pride festival in Manchester back in February, and said on her social media: "we are still working on something a little more special for you guys. it takes a while to put these things together but hopefully i can tell you when i see you at pride. i love u. hope that's alright."
Pride is a global movement fighting for equal rights for LGBT+ people all over the world.
LGBT+ stands for lesbian, gay, bi and trans. The + is an inclusive symbol to mean 'and others' to include people of all identities.
As well as an opportunity to raise awareness of the fight for equal rights for the LGBT+ community, Pride is also a celebration of diversity.
Two years ago in the UK, the Pride celebrations were particularly significant as 2017 marked the 50-year anniversary since it stopped being illegal for two men to be in a relationship in England and Wales.
Cities across the UK have a festival to celebrate pride each year. Manchester Pride Live takes place on the weekend of 24 to 26 August.
Who else is performing at Manchester Pride?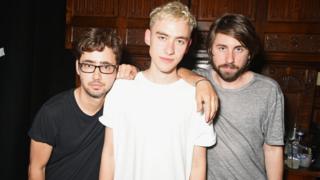 Getty Images
Ariana wasn't the only big act performing at the festival over the weekend.
Other performers include Becky Hill, Pixie Lott and Years and Years.