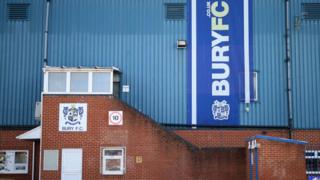 Getty Images
Bury FC has been kicked out of the English Football League (EFL).
The deadline for the League One club to arrange a sale passed on Tuesday night without a deal being reached, leading to the club's expulsion.
Its owner Steve Dale said on Friday that a deal to sell the club had been agreed with a business called C&N Sporting Risk.
But just half an hour before the deadline of 5pm on 27 August, the company announced it would not in fact be buying the club.
Bury is the first club to drop out of the EFL since 1992, when Maidstone and Aldershot both left due to serious money problems.
League One will now have 23 clubs playing for the rest of the season, with only three teams set to be relegated at the end of the campaign.
EFL boss Debbie Jevans described the news as "one of the darkest days" in the league's history, saying that "there is no doubt today's news will be felt across the entire football family".
What's happened at Bury FC?
Bury Football Club was founded in 1885. It is one of the oldest clubs in the EFL, having been part of it for 125 years.
The club has been in a lot of debt though, meaning it owes lots of money to people. But it has struggled to pay these debts.
Despite the club's serious money troubles, in April, Bury managed to get promoted to League One.
But the gates at Gigg Lane have not been open for a match since 24 July, when Bury lost in a pre-season friendly against Blackburn.
It has had six of its competitive matches suspended so far this season.
Back in July, the club was hit with a 12-point deduction after attempts were made to try to clear some of its debts.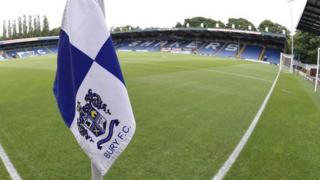 Getty Images
The EFL required proof from the club that it could get the funding it needed to sort out its debts and that it would have enough money to be able to make it through the League One season.
It was given a two-week deadline to provide this information, which ended just before midnight on Friday 23 August.
The club's owner, Steve Dale, told the BBC that same day that a buyer had been found and the club had been sold to an analytics company called C&N Sporting Risk.
The EFL confirmed that Bury had got in touch with them to say the club had been sold, so the club was given until 5pm on Tuesday to complete this sale.
But the deadline passed and C&N Sporting Risk said that in fact it wouldn't be buying Bury, leading to the EFL making the difficult decision to expel the club from the league.
What does it mean to be expelled from the EFL?
The EFL was formed in 1888 and is one of the oldest competitions of its kind in the world.
It oversees tiers two to four of the English football league system. This includes the English Football League Championships (Level 2), League One (Level 3) and League Two (Level 4). Each division has 24 clubs and there are a total of 72 teams in the EFL.
Once a football club has been expelled from the EFL, it no longer belongs to any of its leagues.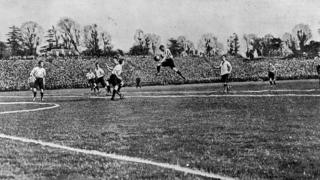 Getty Images
The last time this happened was 27 years ago, when Maidstone United and Aldershot were both expelled during the 1991-92 season.
Bury, who won the FA cup in 1900 and 1903, have become the first winners of the competition to be expelled by the EFL.
How have players been affected?
It has been a tough time for a lot of the players and staff at the club, who have often been paid late.
Bury FC midfielder Nicky Adams shared a statement on social media back in May on behalf of all the players.
It said: "Unfortunately, we are now in a position where we as players haven't been paid in 12 weeks from the club and with no intention of paying what is owed or futures payments to us."
Winger Harry Bunn said: "I can't see how a football club that's been going for 134 years can be two days away from folding. It's quite scary. We don't know what's around the corner. We don't know whether we'll be playing for Bury next week, or whether we'll be looking for another club."
Now, the news that many were fearing has been realised.
What has been the reaction?
League One club Rochdale player Eoghan O Connell, who moved from Bury just last month, commented on the news: "Devastated @buryfcofficial Can't believe it has come to this. Dark day for football!
"Made memories and friends that will be for life and my thoughts are with everyone associated with the club #Shakers 💙"
Former England player Trevor Sinclair said: "Gigg Lane was the 1st football stadium I was ever taken to, I was a former Bury boys U11's player, I feel for shakers fans & their community who must be emotional today #Bury"
Bury captain Neil Danns took to social media too, saying: "Just received the news. Absolutely devastated for everyone . My thoughts go out to all the fans . Who i have developed a special bond with. Still can't believe it. 😔😔😔"
"Thank you to everyone and thank you for the memories Bury FC 💙," he added.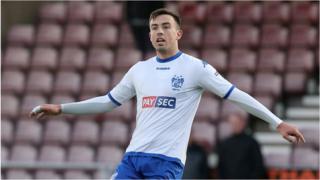 Getty Images
England Women's manager Phil Neville, whose family have close links to Bury FC, spoke out ahead of last Friday's deadline.
"Bury the town might not have a football club. It's absolutely disgraceful. My mum worked for [Bury for] 30 years and my dad had a stand named after him. To consider today they might not have a football club, for me it's so upsetting. I hope... common sense prevails and somebody is allowed to buy that club and the town has something to be proud of again."
"When the news broke at Gigg Lane, fans instantly let out a huge cry - for help, of disbelief," said BBC Radio Manchester's Mike Minay.
"Fans walked away in instant tears, some crouching down to the floor."
Some people have been critical of the owner Steve Dale for how he has managed the club.
He completed his takeover of Bury FC from former owner Stewart Day on 11 December last year. The club was already having money problems at the time, but he told BBC Radio Manchester that if he didn't get the job done to sort the club out, then people could be critical of him.
Around 300 volunteers had turned up at the club's Gigg Lane home on Tuesday to help get the ground ready for Saturday's scheduled game against Doncaster Rovers, in case the club was saved. But their efforts were in vain.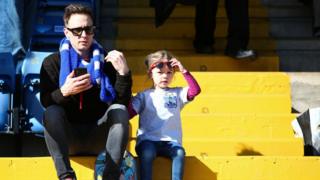 Getty Images
Bolton Wanderers, also of League One, have been given 14 days to avoid being expelled as well, with their prospective takeover by Football Ventures (Whites) Limited still yet to go through.
Are you a Bury FC fan? If so, how do you feel about what's happening? How would you feel if this happened to the team you support?
Let us know in the comments below.