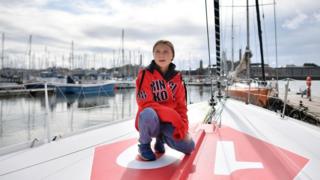 Getty Images
Teen activist Greta Thunberg is making her way across the Atlantic Ocean on a special boat journey.
She will be attending two big climate change conferences in the US.
The journey will take around two weeks on a high speed yacht, called the Malizia II.
What's happened since Greta began her journey?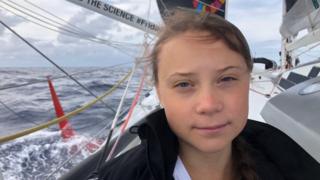 Twitter/@GretaThunberg
Greta has been keeping everyone up-to-date about her trip on social media, and she seems to be settling into her journey to the US. The teen posted: "Day 5. Pos 42° 55' N 022° 12' W. A sunny day with nice winds."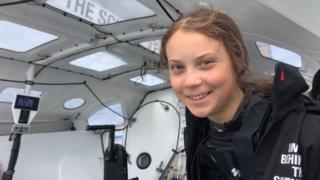 Twitter/@GretaThunberg
Despite the tough living conditions on the boat (there's no loo!) she's also posted saying "Eating and sleeping well and no sea sickness so far. Life on Malizia II is like camping on a roller coaster!"
The 16-year-old shared a picture on Instagram, Twitter and Facebook, along with the caption: "School strike week 52. Pos 47 degrees 17 minutes north and 13 degrees 17 minutes west."
She is part of a movement of students who have taken part in demonstrations against climate change.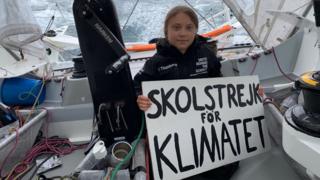 Twitter/@GretaThunberg
Greta experienced her first night on the boat with an unexpected surprise!
She posted on social media: "A very bumpy night but I slept surprisingly well. Some dolphins showed up and swam along the boat last night!"
What do we know about Greta's chosen form of transport?
Greta is currently on a high speed yacht called the Malizia II.
But, it doesn't have a toilet, a kitchen, a shower or any privacy!
Electricity on the boat will come from wind turbines and solar panels, meaning her journey has a zero carbon footprint.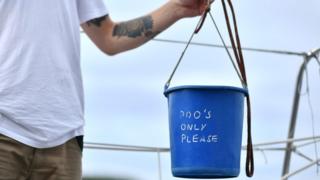 Getty Images
What is Greta doing?
Greta Thunberg refuses to travel by aeroplane, because of the impact air travel has on the environment.
She'd previously said that she'd wanted to go to the conferences in America, but couldn't find a way to get there that wasn't by plane or cruise ship, which are high polluters.
However, Team Malizia got in touch with Greta to offer her their boat, to help her on her journey.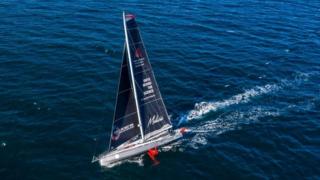 Team Malizia/Greta Thunberg/Facebook
Greta will be joined by her dad, as well as captain Boris Herrmann. A member of the Monaco royal family, Pierre Casiraghi will also be onboard and a Swedish documentary maker, Nathan Grossman.
It might not be an easy journey though.
It's hurricane season in the Atlantic, which could cause some trouble for Greta and her team.