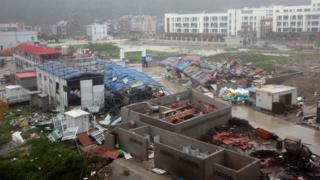 Getty Images
A powerful typhoon has hit China causing more than a million people to flee their homes.
At least 32 people have died after the storm triggered a landslide in Wenzhou in the south east of China.
Officials say about five million people in Zhejiang province have been affected.
Typhoon Lekima is the ninth typhoon to hit China this year, but it's the strongest one seen there for years.
It was initially given the highest level of weather warning, but has now been downgraded to "orange" level.
Lekima's winds reached speeds of up to 116mph before making landfall.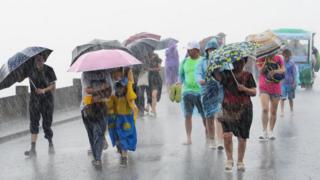 Getty Images
More than a million people have been forced to leave their homes.
Shanghai evacuated some 250,000 residents, with another 800,000 in Zhejiang province also being taken from their homes.
An estimated 2.7 million homes in the region lost power as power lines toppled in the high winds, Chinese state media said.
In the major city of Shanghai, the Metro system has opened again and its two airports are starting up after almost two thousand flights were cancelled.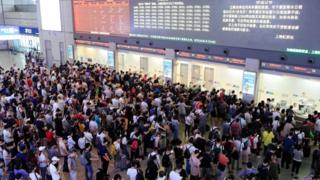 China News Service/getty
Rescue workers have been working hard to help people stuck in the floods, and to evacuate those at risk.
China was also hit by a magnitude six earthquake just a days ago, so experts say that this, alongside the typhoon, could have caused an increase of landslides due to the unstable ground.