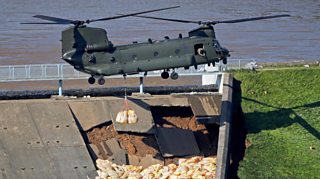 Whaley Bridge dam: Residents allowed to return home
Around 1,500 people in the town of Whaley Bridge have been told they can return to their homes.
It's nearly a week since the town in Derbyshire was evacuated when heavy rain caused damage to a dam above the town.
There had been a risk that the Toddbrook Reservoir - which holds 300 million gallons of water - could flood the town below.
Emergency services have repaired the dam and lowered the water levels of the reservoir.
The Canal and River Trust, which had been monitoring the levels, has confirmed that they've dropped by over 10 metres.
Derbyshire police has also confirmed that it is safe for people to return home.
We spoke to Kian about his experience before he found out he could go back.