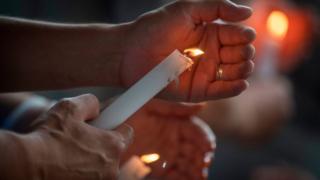 Getty Images
Tributes have been paid to the victims of two shootings in America.
The first attack was on Saturday in Texas in the city of El Paso, which is near the border with Mexico. The second was in the early hours of Sunday in Ohio in the north of the United States.
Medical staff are helping people who were caught up in the attacks.
The first shooting at a store in El Paso on Saturday, 20 people died at the scene and two more died in hospital later.
Many local people have been trying to help those who were injured by doing things like donating blood.
In Texas, police have arrested a 21-year-old man over Saturday's shootings. Officials say the attack is being treated as a case of "domestic terrorism" because it has taken place in the attacker's own country.
Around 13 hours after the first attack, at least nine people were shot and 27 injured in a separate incident outside a nightclub in the state of Ohio. The gunman was shot by police.
UK Prime Minister Boris Johnson has said he is "deeply saddened" by what's happened in the US.
"Our hearts go out to the victims and all those affected by these appalling acts of violence," he said on social media.
How has President Trump reacted?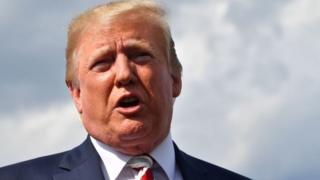 Getty Images
US President Donald Trump has said "perhaps more has to be done" to prevent mass shootings.
He told reporters on Sunday: "Hate has no place in our country, and we are going to take care of it.
"This has been going on for years, for years and years in our country, and we have to get it stopped."
But some people have criticised the president, saying the way he speaks about minorities promotes racial division and violence.
Following the shootings, a lot of people are talking again about the gun laws in America, with many demanding that they need to be changed to stop attacks like this from happening.