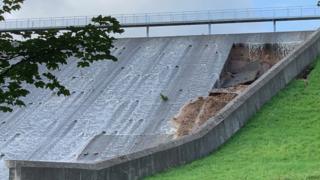 Chris Taylor
Repair work is continuing on a reservoir dam in Derbyshire after part of the wall was damaged in recent floods.
Derbyshire Deputy Chief Fire Officer Gavin Tomlinson said teams at Whaley Bridge had made good progress overnight.
But heavy rain is forecast for Sunday, which could make the operation difficult for the emergency services.
Many people have now spent three nights in temporary accommodation as the dam is at risk of bursting and flooding the town.
The residents were evacuated from their homes on Thursday and told to gather at a school three miles away.
An RAF helicopter has been helping to repair the wall, dropping bags of sand, gravel and crushed stones to stop more water getting in.
The Toddbrook reservoir, which holds 300 million gallons of water - that's the equivalent of 450 Olympic-size swimming pools - is in the village of Whalley Bridge.
Prime Minister Boris Johnson visited on Friday and promised a "major rebuild" of the dam.
Police and the Environment Agency have said there is a "real risk" the dam could collapse, which is why emergency services are working hard to deal with the situation.
Engineers have also been pumping water out of the reservoir to bring the levels down in order to safely repair the dam and ease the pressure on it.
"People have been so kind and have kept in good spirits," explained Philip Jupp, who lives in the town.
Area director Lee Rawlinson said the community spirit had been "fantastic".
At the moment, the emergency services have been unable to say how long the repairs will take so people don't know when they will be able to go back to their homes.