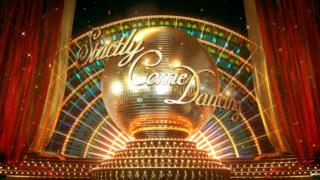 The Strictly Come Dancing line-up is officially complete!
Get ready for the bright lights, sequins and plenty of cha-cha-cha - the nation's favourite celebrity-filled dancing bonanza is coming back to our screens this autumn.
Some exciting new changes have already been announced ahead of the show's launch, with the introduction of a brand new pro dancer and new judge too.
Now, we know who all of the celebrities taking part will be. Read on to find out more about them.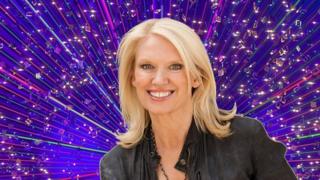 Anneka Rice first found fame whizzing around in a helicopter on a 1980s Channel 4 TV show called Treasure Hunt. She then launched Challenge Anneka in 1989, which ran for five years on BBC One shining a spotlight on issues like disability, homelessness and animal welfare.
Her radio work includes the Radio 2 Saturday Breakfast Show, which she presented for six years.
Anneka said: "I haven't danced since I was seven and Miss Beer sent me home from my ballet class because I was hopelessly uncoordinated. My family and friends haven't seen me dance since."
She added: "Strictly has always been my autumn's entertainment and now I'm part of it! My children will probably leave the country."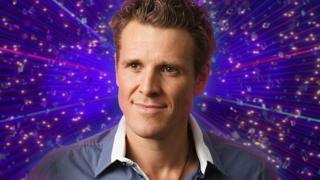 James Cracknell is a rowing champion and double Olympic gold medallist, who won medals in the 2000 Sydney games and 2004 Athens games.
Since retiring, James has done the Race Across the Atlantic, in which he and Ben Fogle finished first. He has also completed the Yukon Arctic Ultra, cycling over 430 miles across the frozen Alaskan countryside, becoming the highest-placed Briton ever when he finished 12th.
James is a BBC rowing commentator and was heavily involved in the coverage for the Rio Olympics in 2016. He has more recently become the oldest ever Boat Race champion as part of Cambridge University's crew as they rowed to victory in the 165th race.
James said: "I'm really looking forward to being a part of Strictly this year.
"It's time I learned a new skill. I need to apologise to my kids in advance for the embarrassment!"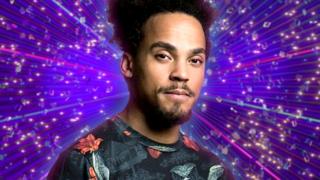 Dev Griffin is a radio presenter and DJ.
Dev began his career presenting on children's television before getting a show on BBC's 1Xtra. He now presents the BBC Radio 1 Weekend breakfast show.
He was a finalist on Celebrity MasterChef and has also hosted the Bafta TV Awards.
Dev said: "It's going to be so much fun, but just to be clear, I'm not doing this to take part, I'm totally in it to win it! I can't wait to meet my partner and start practising."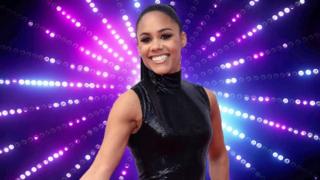 Getty Images
Alex is a sports commentator, presenter and former professional footballer.
She's was the Arsenal captain and has travelled around the world playing football, even representing Great Britain in the 2016 Olympics.
Speaking about joining the series, Alex said: "I am absolutely buzzing to be signed up to Strictly. It's the show I've always wanted to do and I can't believe I'm finally going to be part of it.
"I'm super excited, but also terrified at the same time. The football pitch is a bit less glam than the ballroom, but I'm ready to try the sequins and dresses! Bring it on!"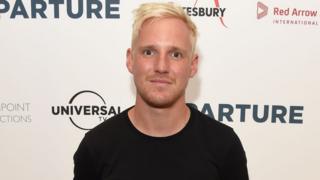 Getty Images
Jamie is a reality TV star and businessman.
He's most famous for appearing on the series Made In Chelsea and has also appeared on The Great Celebrity Bake Off.
He also set up his own sweet company with his business partner Ed Williams.
Jamie said: "I am beyond thrilled to be asked to be on Strictly. The only person potentially more thrilled is my mother. I have finally become the son she hoped for!"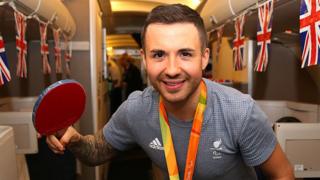 Getty Images
Will is a World Table Tennis Paralympic champion - he's the current world number one!
He was born with arthrogryposis - a condition which affects his arms and legs.
Will said: "I'm so proud to be on the show, it's my family's favourite show. I have no dance experience at all, but I hope I can do well. I want to inspire people with a disability- that would mean a lot to me. I want to prove to people I can do this."
In January 2017, Will was awarded an MBE for his services to table tennis.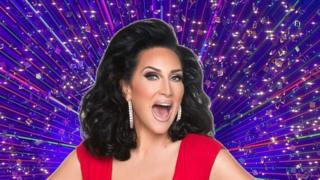 Michelle is an American TV star.
She's best known for being the best friend of famous drag star Ru Paul and is a fellow judge on his TV show.
She is also a judge on Ireland's Got Talent, and is an actress and singer.
Michelle said getting to be on the show was a "DREAM" and said "slap on the sequins, point me to the dance floor and watch me Paso my Doble".
Emma Thynn, Vicountess Weymouth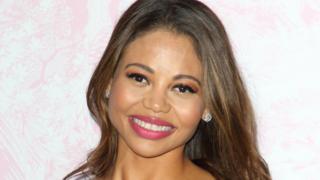 Getty Images
Emma is the Vicountess Weymouth, which is a title given to noblemen and women in Europe.
A Viscountess is fourth in the rankings of the British peerage system, and sits below an Earl or a Countess, but above a Baroness, Lady or Dame in how much power they have.
Not only that, but Emma is a chef, a model, has written for the famous magazine British Vogue, and also runs Longleat safari park with her family.
Talking about being on the show, she said: "It's so, so exciting - it's such an institution."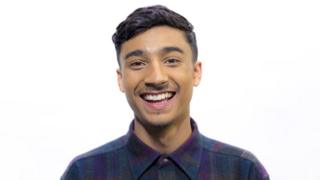 CBBC
Karim has been causing chaos in the CBBC HQ studios since 2014, but you may have seen him acting on The Sparticle Mystery,which was a show on CBBC a few years ago.
He has a little bit of dancing experience, as he attended the Sylvia Young Theatre School as a child. He also played the main character Simba in the West End production of The Lion King!
Karim said: "To be offered the chance to take part in Strictly is dumbfounding, I'm pinching myself…! I'm so excited to be Strictlified. I want THE LOT!
"The skimpiest of clothes, the widest of flares, the brightest of colours and the tallest Cuban heels a guy can find! The more flamboyant the better... sequins galore please!!"
Karim told Newsround's Jenny he went to theatre school and has had a bit of dance training but has "not danced in years".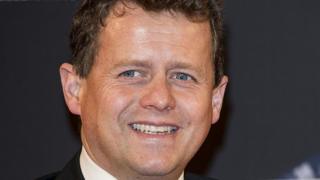 Getty Images
Mike Bushell is a sports presenter on BBC Breakfast.
"I know I will completely throw myself into the whole experience and I'm sure will love it from start to finish," he said.
"I may have tried and profiled over 500 sports over the years in my Saturday morning BBC Breakfast slot, but think the Strictly challenge could be the greatest. Bring on the glitter!"
Mike presents the main sports bulletins of the day on BBC Breakfast.
For Comic Relief, he also holds the unusual world record for crossing one mile of water in a large inflatable ball in 1 hour 57 seconds.
Last year, Bushell fell into a swimming pool while doing a live interview during the Commonwealth Games - let's hope he doesn't slip on the dancefloor!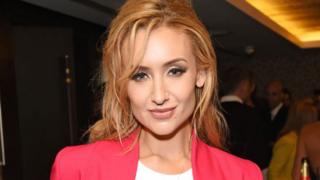 Getty Images
Catherine Tyldesley is best known for playing Eva Price on the ITV soap opera Coronation Street from 2011 to 2018
She also recently starred in 15 days on Channel 5.
She said: "It'll be my biggest challenge to date as I'm not much of a dancer, but I've always wanted to learn the skill and the time feels right!
Catherine added that she was feeling "nervous", but also "super excited to work with such talented professionals".
"Hold onto your jazz shoes... mine is sure to be a bumpy/clumsy/fun ride!"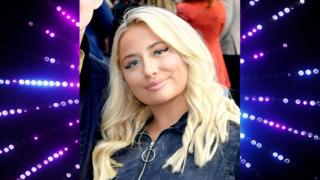 PA
Saffron Barker is a YouTuber who has been making videos since 2015.
She gets an average of 15 million views a month on her YouTube channels and has more than four million followers on her social media channels.
Saffron also wrote a book called Saffron Barker vs Real Life: My perfectly Filtered Life, which topped the Sunday Times Bestseller list in 2017.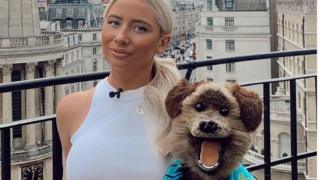 @SaffronBarker
The 19-year-old said: "I'm looking forward to learning all of the dances, finding out who my partner is, getting to wear the costumes and to just experience this once-in-a-lifetime opportunity."
Barker told 2018 finalist Ashley Roberts on Heart radio that she was inspired by fellow YouTuber Joe Sugg who also did well last year. "I'm excited to follow in his footsteps," she said. "He did absolutely amazing... I've got a lot to live up to."
Barker recently met CBBC's very own Hacker T Dog. The social media star put the photo of her and Hacker on Instagram with the caption: "My childhood self would be screaming right now!"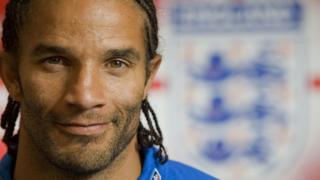 Getty Images
David James is a former England goalkeeper with an MBE award from the Queen. He has played for Liverpool, West Ham, Manchester City, Aston Villa and Portsmouth!
He was capped 53 times by England between 1997 and 2010.
James has been a pundit on BT Sport and also appeared on The Great Sport Relief Bake Off in 2016.
James said he was persuaded to compete by ex-contestant and former swimmer Mark Foster, who had an "amazing experience" on the show.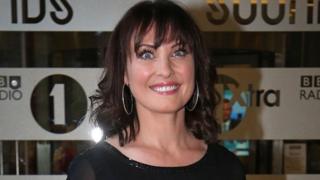 PA
Emma is best known for playing Honey Mitchell in EastEnders.
She enjoys cooking and has even appeared on Celebrity MasterChef!
Barton said she was a big fan of Strictly and was therefore "over the moon" to be asked to appear in series 17.
"From Albert Square to the Strictly dance floor - I just can't wait!"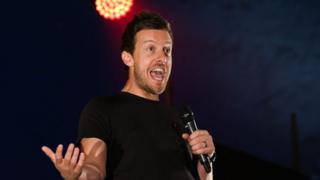 Getty Images
Chris Ramsey is a stand-up comedian, who also starred as Jack Pearson in the BBC Two sitcom Hebburn.
He said he was "really buzzing" but added he is not a natural dancer.
"You will not find me on the dancefloor at parties," said the 32-year-old. "You will find me at the buffet table... All night.
"At my wedding, I danced with my wife. That one song took about six months' practice, and I definitely stood on her feet a couple of times."
When will Strictly be back on our screens?
Strictly Come Dancing will return to BBC One this September for its 17th season.
Tess Daly and Claudia Winkleman will be co-hosting the show for the 5th year.