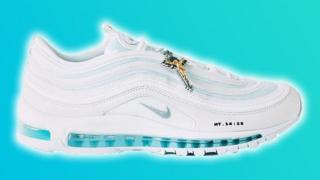 MSCHF / Nike
Designers MSCHF have released a pair of Nike trainers dubbed "Jesus shoes" because they have been blessed by a priest and filled with holy water. They cost $3000 and sold out in minutes.
Each shoe of the Nike Air Max 97s contains 60ml of holy water in the air-filled sole.
The trainers have a bible verse written on the side and less than 24 pairs were made.
Nike were not involved in the creation as MSCHF bought the trainers at retail value before transforming them.
Daniel Greenberg from MSCHF, explained the brand wanted to make a statement that "collab culture", when two or more brands make something together, is "getting out of hand".
The controversial trainers have sparked a huge online reaction.
Whilst these unique shoes have set people back $3000, this is just a drop in the ocean compared to some of the most expensive trainers in the world. Check out some astonishingly pricey pairs below!
Ultra-rare and super pricey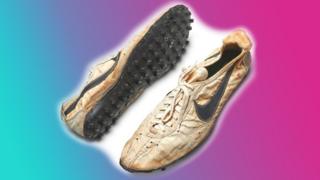 Farfetch
In July 2019 the top 100 rarest trainers in the world were bought by one man (a very keen sneaker collector!)
Miles Nadal bought 99 of the 100 pairs for $850,000, which is around £670,000 in a private sale last week.
He added to his collection with another pair of running shoes which he bought for a record-breaking $437,500 (approximately £350,000), through an auction at Sotheby's in London.
He plans to display the trainers at his private museum in Toronto in Canada.
Up for grabs at the auction was a super rare 1972 Nike Moon Shoe (pictured above).
Designed by Nike co-founder and Oregon University track coach Bill Bowerman, these shoes were created for the 1972 Olympic Trials.
They are one of only 12 pairs made.
The shoes sold at the auction for a whopping $437,500, which is around £350,000! It also set a new world auction record for a pair of trainers.
The previous record was set in 2017 at around £153,050 and they were a pair of signed Converse worn by Michael Jordan in the 1984 Olympic basketball final.
Mr Nadal said: "I am thrilled to acquire the iconic Nike 'Moon Shoes,' one of the rarest pairs of sneakers ever produced, and a true historical artefact in sports history and pop culture."
Most sought after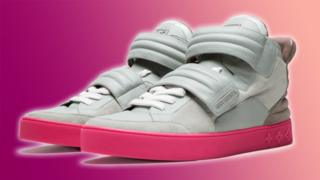 Farfetch
Estimated as the most valuable pair of trainers in the collection was these Louis Vuitton Kanye West x Louis Vuitton trainers, in grey and pink.
The shoes, which come in two other colour schemes (which aren't as valuable), are said to be the most sought after by collectors, and are worth around £22,763!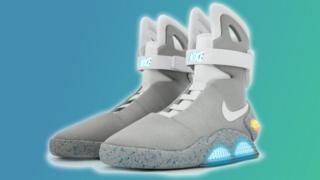 Farfetch
Their price tag is closely followed by the iconic Nike Air Mag, valued at around £11,381.
Created in 2011 with only 1,500 pairs ever made, these trainers are a replica of the self-lacing shoes from the 1989 film Back to the Future Part II.
Biggest increase in value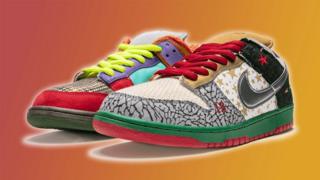 Farfetch
The trainers with the biggest increase in value are the Nike SB trainers in the picture above.
They cost £91 when they were first released in 2007, but are now worth a whopping £3,794 - an increase of 4067%!
The shoes are designed using patterns, colours and materials from previous Nike SB trainers.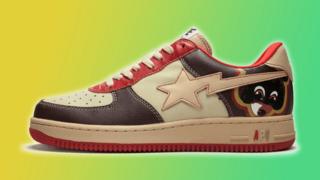 Farfetch
Collector and expert Matthieu Le Maux - an expert in valuable trainers - explains: "It's difficult to know for certain whether a sneaker will appreciate in value.
"If it's a limited edition of an iconic model that is revisited by a famous designer or a world-famous artist, it is very likely that its value will increase. "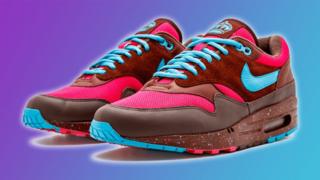 Farfetch
Matthieu also has some tips for collecting and taking care of trainers.
"Adapt the sneakers you're wearing to the occasion or the place you're going to. For example, don't wear a model that is precious to you to a party or a concert.
"You also have to take care of it on a daily basis - use water and soap, avoid any toxic products that can damage the fabric. Recently, 'sneakers clinics' have started to appear in which specialists try and save your favourite pair. They are the shoemakers of modern times!"
All trainer values were provided by Stadium Goods and the research compiled by Farfetch.