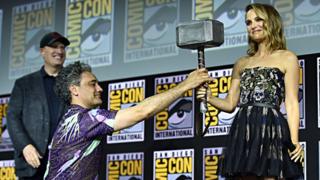 Getty Images
It's that time of year again... It's Comic-Con! It's the big event which attracts people from all over the world travel to San Diego in California, US.
Comic-Con events are held in many different countries, but the San Diego event is the biggest and most famous.
The four-day pop culture extravaganza celebrates film, TV, video games, comic books, costumes and other popular arts. There are often big announcements or teases for future films and TV shows - and this year has been no exception.
Here's what has been going on so far this year.
Natalie Portman taking up the famous hammer as Thor
Thor: Love and Thunder has just been announced at Comic Con, it will be the fourth film in the Thor franchise and will see Natalie Portman and Chris Hemsworth return.
But there's a difference... it's been announced that Natalie Portman will play a female version of Thor. The film's director Taika Waititi made the announcement at Comic Con and presented Natalie Portman with Thor's famous hammer.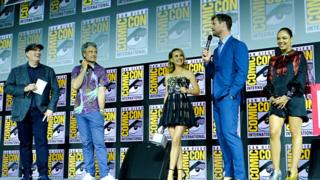 Getty Images
Thor: Love and Thunder apparently picks up after the events of Avengers: Endgame. Portman was missing in the last Thor film Thor: Ragnorak but if all sources are correct, she will make a big appearance in the latest film.
We do not know at this stage what this means for Chris Hemsworth who has played Thor in the Marvel Cinematic Universe (MCU) films this far.
Director Taika Waititi said that the "story line is incredible and full of emotion, love and thunder and introduces for the first time female Thor,"
Black Widow gets her own film and other Marvel-ous announcements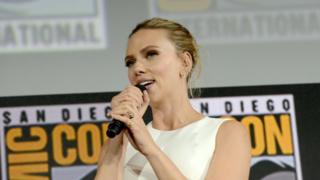 Getty Images
Scarlett Johansson played the role of Natasha Romanoff, AKA Black Widow in other Marvel films but this will be her first stand alone movie.
The film has been in production for 30 days and Scarlett Johansson said "I get to play Natasha as a fully realised woman, in all of her many facets."
More announcements were made and more was teased. A number of Marvel series are to feature on the new Disney+ streaming service including Loki and Hawkeye.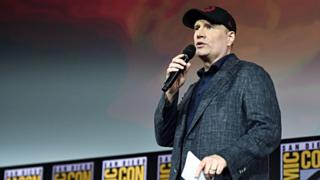 Getty Images
Marvel Studios President Kevin Feige briefly mentioned some other new films to a cheering audience. He said "we didn't mention that we're making Black Panther 2, we didn't mention the fact that Guardian of the Galaxies 3 is coming.
"We didn't have time to talk about Captain Marvel 2, and I didn't have time to talk about the Fantastic 4 and there's no time to talk about Mutants," he told a delighted crowd.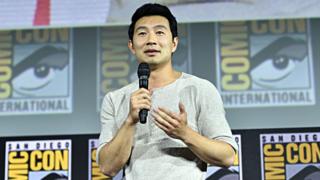 Getty Images
The first Asian American super hero film Shang-Chi was also announced. Shang-Chi is a Kung-Fu master, who first appeared in the Marvel comics almost 50 years ago, the character was born to a Chinese father and an American mother.
Canadian actor Simu Liu has been confirmed to play Shang-Chi.
The SpongeBob Movie poster
Is it just our eyes or is this movie poster moving?!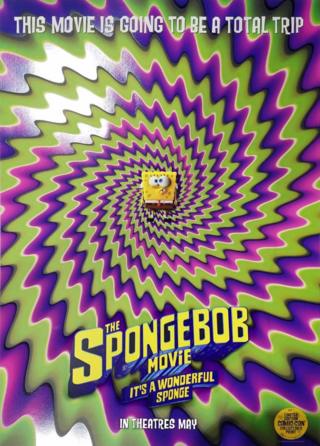 SpongeBob The Movie
Let's zoom in on that for a moment...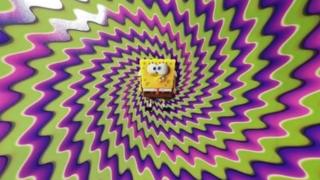 SpongeBob The Movie
It's an optical illusion and is a limited edition poster for the film made especially for Comic-Con.
According to the poster, The SpongeBob Movie: It's a Wonderful Sponge will be released in 2020.
The entire cast and creators of the Nickelodeon programme took part in a question and answer session with fans and journalists to celebrate the show's 20th anniversary.
Not much has been revealed about the plot, but we do know that it will explore the character's origin story.
His Dark Materials trailer
We told you back in June that a new TV series based on Phillip Pullman's His Dark Materials trilogy is coming.
Thanks to a cast event at Comic-Con, we have now seen a trailer for the series and it looks... well, dark!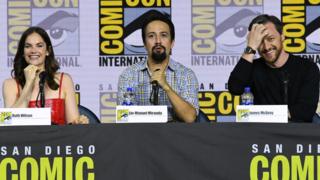 Getty Images
The story follows the epic adventures of Lyra Belacqua as she tries to find her friend Roger and discover more about a mysterious 'dust'.
Along with her daemon Pantalaimon, Lyra meets giant armoured polar bears, witches and evil villains.
Her adventure begins when she overhears a secret and discovers a mysterious rare device called the alethiometer, which only she can use.