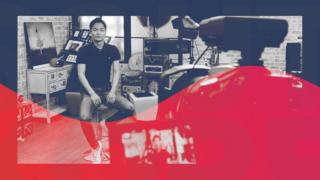 When you think of South Korea, what springs to mind? Maybe K-Pop, beauty treatments or even traditional Korean food like kimchi.
Newsround has been to South Korea to find out more about what life is like there, and to find out about the issues that matter to young people living there.
South Korea shares a border with North Korea which is one of the most secretive countries in the world - strict rules control everyday life there.
But every year over 1,000 people escape in the hope of making it to South Korea and other countries, where they can have more freedom.
Newsround met two teenagers and a YouTuber - all who managed to escape from North Korea to settle in neighbouring South Korea.
Diana was two years old when she came to South Korea with her mum. Na-yeon was 17 years old when she took her little sister over the mountains into China to escape.
Jun also escaped from North Korea when he was 17 years old.
Before fleeing, he'd never seen a computer or used the internet, but now he's a YouTuber in South Korea.
What does it take to become a K-pop star?
K-pop is massive at the moment with bands like BTS and Blackpink breaking records and making history.
But it's not easy to make it in the industry, because it's incredibly competitive.
There are even K-pop training schools where kids and teenagers learn to sing, dance and rap.
Members of iKON tell us about what it's like to be K-pop stars.
While new band NewKidd talk about living and training together. The youngest member is just 15 years old.
South Korea's football star
Tottenham forward Son Heung-Min is one of the most famous sports stars not just in South Korea, but on the entire continent of Asia.
Originally from Chuncheon in South Korea, Son Heung-Min became Asia's most expensive footballer ever when he joined Spurs back in 2015.
He quickly became one of the Premier League's biggest stars. In his home country, he's as big as players like Cristiano Ronaldo are in the rest of the world.
Newsround has been to South Korea to meet Son Heung-Min's older brother - Son Heung-Yun - to find out more about his famous sibling.
'I watch YouTube for 18 hours a day'
South Korea is the most connected country in the world, becoming one of the first nations in the world to adopt 5G.
But having such easy access to all the latest technology has also led to some young people in South Korea developing an unhealthy relationship with the internet, social media and their smartphones.
To help tackle the problem, the government there funds internet addiction camps to help teenagers get offline.
From toddlers to teens: Dealing with the pressure to look good
Beauty is big business in South Korea.
K-beauty is the name given to the beauty industry in Korea - rather like K-pop refers to Korean popular music, and K-drama refers to Korean TV dramas.
The K-beauty industry targets everybody, both male and female, and it's not just about make-up.
Massages, facials, nail treatments, hair styling and make-up all form part of the multi-billion pound industry which is incredibly popular in the country.
But it's not just adults that are enjoying all that the beauty industry has to offer - children as young as three do too.