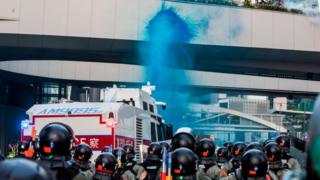 Getty Images
Protests have been taking place in Hong Kong for many months now.
They first started in June and have been getting increasingly violent.
Demonstrators were originally protesting against a law that could have seen citizens sent to China to be tried for political crimes.
The law, known as the extradition bill, has now been scrapped but protests are still going on.
Some students have been boycotting school to join the protests.
Clashes between protesters and police have become increasingly violent but there have also been peaceful demonstrations.
Protesters are now demonstrating over broader issues linked to democracy, human rights and their treatment by police.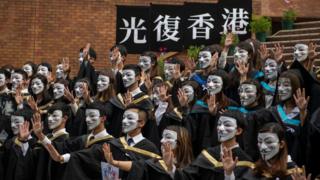 Getty Images
Schools and universities were closed over safety fears in early November, but lessons have now resumed in most schools.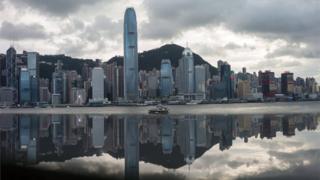 EPA
Hong Kong is a region in southeast Asia, smaller than the area of Greater London.
It is not a country, but a region. Its official name is Hong Kong Special Administrative Region of the People's Republic of China.
This means the region belongs to China, but enjoys some freedom and independence from China's laws.
It has a population of roughly seven million people but Hong Kong is a very important city.
Hong Kong is also seen as an important global centre for banking and industry.
Why did the protests start in Hong Kong?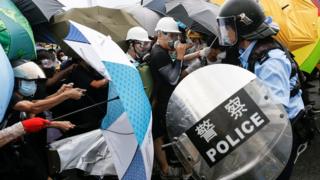 Reuters
For many years, Hong Kong was run by the UK as a part of the former British Empire.
That was until 1997, when control of the city was handed over to China.
But a special agreement with China - called "one country, two systems" - was created to make sure that Hong Kong had some independence from China.
This means that the city has its own laws, its own courts and its residents enjoy certain freedoms unavailable to people who live in mainland China.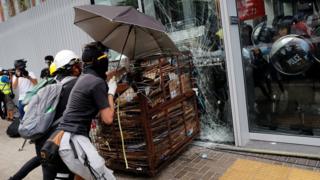 Reuters
However, protesters felt that the new law called the Extradition Bill (which was scrapped) had been designed to give more control over Hong Kong back to China.
They want to keep their independence from the Chinese government, and believed that Chief Executive Carrie Lam was looking to create a closer relationship with China.
Now despite the fact that the bill has been scrapped some people are still protesting against China's influence in Hong Kong.