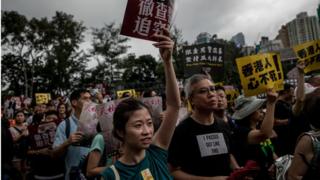 Getty Images
It's over two months since protests started in Hong Kong, with rallies getting increasingly violent.
But organisers of the most recent demonstration, say about 1.7 million people took part in peaceful protests there this weekend.
The police said it was more like 128,000 people though, because they only counted particular groups.
The Civil Human Rights Front, who organised the rally, weren't given permission to walk through the city to protest, but police allowed them to hold a demonstration in Victoria Park.
There have been a number of violent clashes between anti-government protestors and the police over the past 10 weeks in Hong Kong. China has compared the protests over the last few weeks to terrorist activity. However, the events of this weekend show protestors taking a different approach.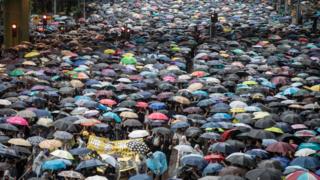 Getty Images
Citizens of Hong Kong have been protesting against a new law that could see people in Hong Kong tried for political crimes in China - something that they feel is unfair and unjust.
Hong Kong is a region of China which has more independence and freedoms than the mainland of the country.
But the protestors in Hong Kong are worried that China is trying to limit their independence by enforcing this new law - called the Extradition Bill.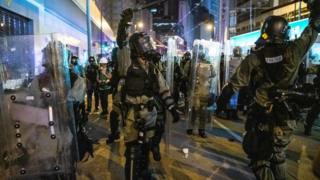 Getty Images
So far, there have been over 10 weeks of anti-government protests in Hong Kong, with police firing tear gas and rubber bullets as a previous peaceful protest was turned more violent by more hardcore protestors.
These protests were criticised by the Chinese government which called them "horrendous incidents".
A spokesman for the Hong Kong and Macau Affairs Office (HKMAO) strongly criticised the "evil and criminal acts committed by the radical elements" in Hong Kong.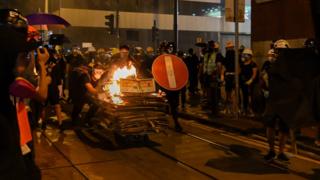 Getty Images
Spokeswoman Xu Luying added: "We also believe that Hong Kong's top priority... is to punish violent and unlawful acts in accordance with the law, to restore social order as soon as possible, and to maintain a good business environment."
But many of the protesters say they are fighting for the right to be heard and to keep Hong Kong a more independent region.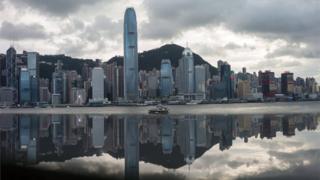 EPA
Hong Kong is a region in southeast Asia, smaller than the area of Greater London.
It is not a country, but a region. Its official name is Hong Kong Special Administrative Region of the People's Republic of China.
This means the region belongs to China, but enjoys more freedom and independence from China's laws.
It has a population of roughly seven million people but Hong Kong is a very important city.
Hong Kong is also seen as an important global centre for banking and industry.
Why are people protesting in Hong Kong?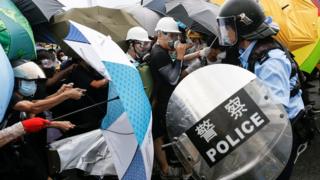 Reuters
For many years, Hong Kong was run by the UK as a part of the former British Empire.
That was until 1997, when control of the city was handed over to China.
But a special agreement with China - called "one country, two systems" - was created to make sure that Hong Kong had some independence from China.
This means that the city has its own laws, its own courts and its residents enjoy certain freedoms unavailable to people who live in mainland China.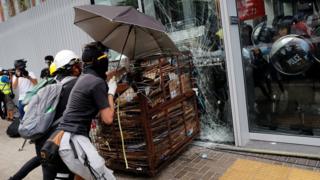 Reuters
However, protestors feel that a new law called the Extradition Bill is designed to give more control over Hong Kong back to China.
They want to keep their independence from the Chinese government, and they believe that Chief Executive Carrie Lam is looking to create a closer relationship with China.
The government has agreed to suspend the new law for now, but the rallies continue and Mrs Lam is facing calls for her to quit her job.
Why is the extradition bill so controversial?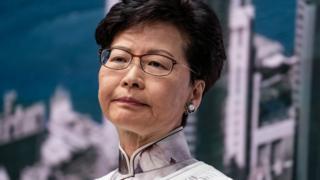 Getty Images
Hong Kong has its own laws and courts.
This means that if you do something wrong in Hong Kong, you can be tried in a Hong Kong court instead of in mainland China.
However, the extradition bill is a law that sees any Hong Kong citizen who has caused an offence against mainland China to be taken from Hong Kong to be tried in China.
This has upset the protestors, because they think that China will use the extradition bill as an excuse to try and control Hong Kong.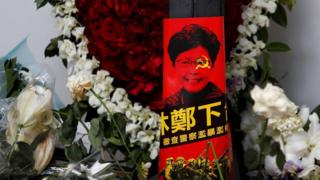 Reuters
Supporters of the law have said Hong Kong courts will have the final say over whether or not people can be extradited - sent for trial - to mainland China.
They also say that suspects accused of political and religious crimes will not be sent to mainland China for a trial.
But critics say people in Hong Kong would face unfair treatment under what they say is China's unjust court system, and it would lead to the city losing more of its independence.
What happened during July?
On Monday 1 July, a protest took place as part of the 22nd anniversary of the region's handover from UK to Chinese rule.
Police used pepper spray and batons to control protesters outside a venue hosting a ceremony when things turned violent.
The protestors are angry about the possible introduction the new bill that would allow people to be sent to mainland China to face criminal trials.
At about midnight outside the LegCo building, protesters wearing plastic helmets and holding umbrellas ran away from a baton charge by riot police, who quickly pushed through their makeshift barriers.
Within an hour, the streets around the building were clear of everyone except the media and police.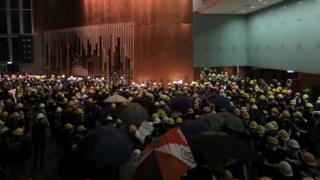 Getty Images
China accused the protesters who damaged Hong Kong's parliament on Monday of "serious illegal actions" that "trample on the rule of law".
Hong Kong's Chief Executive Carrie Lam praised the protesters who marched peacefully, while criticising those who used violence.
"I hope the community at large will agree with us that with these violent acts that we have seen, it is right for us to condemn it, and hope society will return to normal as soon as possible," she told reporters.
Ms Lam added that authorities will look to arrest anyone directly involved in the break in of the LegCo building.
The Chinese government urged the city to investigate the "criminal responsibility of violent offenders".