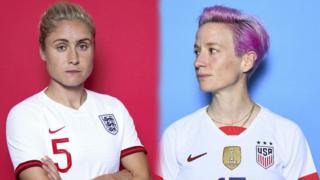 Getty Images
England will face the USA in the Women's World Cup semi-finals on Tuesday evening and manager Phil Neville says they are "ready".
USA beat the hosts France on Friday, and England bagged their semi-final spot earlier last week when they beat Norway 3-0.
It's set to be an incredible match as team USA are currently ranked top in the world, and England have been dominating so far in the competition.
The match kicks off in Lyon, France, at 8pm and is live on BBC One.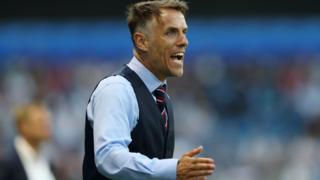 Getty Images
England manager Phil Neville has said he has been planning for England to face USA since he took the job.
"We've planned for it, we've played against them and we know how we're going to play," Neville told BBC Sport.
He also said the England team having been hoping to play against USA in the semi-finals.
"When it was France or USA in the semi-final every one of my players said: 'Let's hope it's USA'
"When I got the job, the first three games I looked at were the USA. I was sitting in my house in Valencia and watched three games in one afternoon because I thought: 'How can we win the World Cup?'
"You have to beat the best, and the USA are the best. They've proven it.
"But we're ready for them. Sometimes, before these games, you can have fear and trepidation - but I can smell nothing but freedom, happiness and excitement."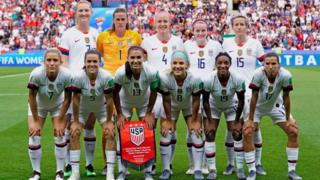 Getty Images
Team USA are absolute juggernauts in the football world.
They've won the Women's World Cup a record three times, and are the reigning champions.
In fact, they've made it to the semi-finals in every World Cup since it began, and they have only lost once in the last 43 matches they've played!
The squad are currently taking legal action to try to get equal pay and better rights, to put them in line with the men's USA football team.
Who will get the Golden Boot?
The race is still on for the Golden Boot prize, which is awarded to the tournament's top goal scorer.
Four players have five goals each. Manchester City and England striker Ellen White scored her fifth goal against Norway tying her.
USA's Megan Rapinoe and Alex Morgan also have five goals too.
"It's a shootout maybe between Ellen and Alex Morgan for the top scorer," Neville said. "There are going to be brilliant players on this football pitch."