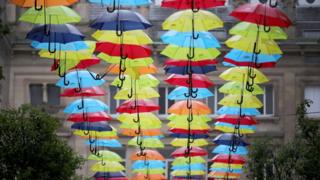 Getty Images
If you have been to Liverpool, Salford or London Heathrow airport recently, you might have seen displays of colourful umbrellas.
They are part of an art project to raise awareness and celebrate neurodiversity.
Just as biodiversity refers to all the different types of life on Earth, neurodiversity is about the full range of different ways the brain can work and understand information.
Since 2017, the project has expanded to around 100 installations and schools across the country have their own displays.
The idea behind celebrating neurodiversity is to talk about and raise awareness of the differences between people without judging them.